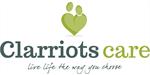 Clarriots Care - Management Franchise
With Clarriots Care, you'll get the financial and self-rewarding benefits of delivering quality home-based care within the community.
 Watch Video
Finance requirements

Total Investment: £32,500
Profile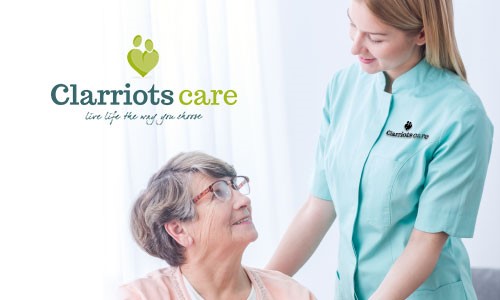 Join one of the fastest growing sectors
Did you know that there are currently over 10 million people in the UK are aged over 65? The latest projections estimate that over the next 20 years there will be 5.5 million more people aged over 65 living in the UK. Although a steady stream of advancements in medicine and technology have enabled people to live longer, stronger and healthier lives, many inevitably require some form of support if they wish to remain in the comfort of their own home.
The health and social care industry is currently worth more than £40 billion, and there has never been a better time to jump head first into this lucrative market. Not only could you ensure financial security for you and your loved ones, but you could also make a real difference to your local community.

Introducing Clarriots Care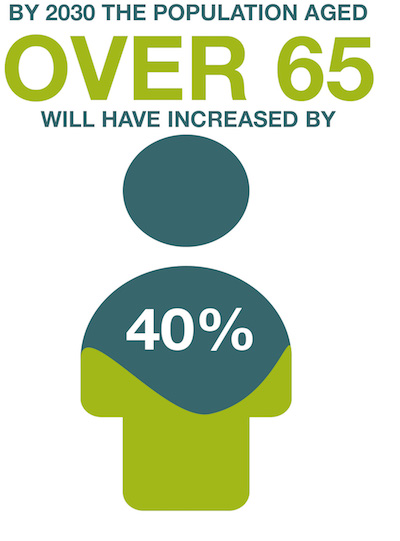 So you've found a lucrative market to invest wisely, now you want to find an organisation who can help you realise your entrepreneurial potential. Clarriots Care can help you with that.
Founded in 2008 by entrepreneur James W Carratt, Clarriots Care are a market leading UK health and social care provider trusted by thousands up and down the country. When someone joins our company, whether as a client, employee or Franchisee, they are joining a family that helps and supports one another. We channel our family values into our business, and it has taken us from a company with a few employees to become a company that has offices spanning the UK, employing hundreds of people.
Our passion for your success means we are constantly investing back into the brand to ensure we are in the best position to help you setup a highly profitable and successful business that really will make a life changing difference to both you and your local community.
"We have developed a business model which we are very proud of. I'm passionate that as a franchisor we are only as good as our franchisees so our support to each individual in the setup stage and through the life of the business is absolutely unrivalled. Our relationship will flourish and become a mutually successful venture." - James W Carratt, Clarriots MD.
Why the Clarriots Care Franchise Opportunity stands out
Clarriots Care is thrilled to announce the relaunch of our life changing Franchise Opportunity in association with Ashtons Franchise Consulting, after a successful 18 month pilot of our innovative new business model that has seen considerable success.
Developed with ambitious entrepreneurs like you in mind, our enhanced Franchise Opportunity gives you everything you need to start running your own successful business in the health and social care sector, as well as offering you the ability to make a real difference to your local community.
Now, you don't need to have worked in the care sector previously to make a positive impact! It's more important that you genuinely care about others and have a passion for delivering excellent standards of service, and we'd like you to have experience of managing people too.
The Clarriots Care Franchise Opportunity gives you everything you need to succeed, including some very special goodies.
Centralised Sales:
Unfortunately not everyone is cut out for a career in sales. Even more difficult in this industry, handling care enquiries requires a particularly careful approach which is why we have great news for you... We manage all your sales for you. All enquiries are managed by our highly trained, motivated and experienced sales team who will work tirelessly to convert your enquiries into clients. There are so many benefits to this including reduced staff costs, higher conversion rates and increased margins for your business.
Office Status Scheme:
Our 'Office Status Scheme' will recognise and reward your efforts when you go above and beyond to support your clients by awarding your office one of several different rankings. Achieving a higher ranking gives your office access to a range of benefits including reduced management fees. It will also reassure our clients, both existing and new, that the services you provide will exceed their expectations.
Clarriots Academy:
180 Days Of Training uniquely designed to prepare you for the exciting journey which lies ahead. During your time at Clarriots Academy we will teach you everything you need to know in order to run a successful care provider business, helping you with such topics as recruitment, marketing and training.
Clarriots Order Link: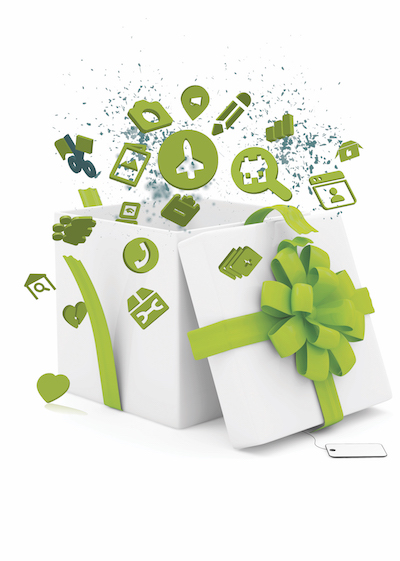 The Clarriots Order Link is an all-in-one online portal that allows you to browse the complete Clarriots catalogue of products and services. Simply log into your account and find what you need, anything from an advert design, to a batch of printed flyers, brochures or banners to an extra days training on an area of your choice.
Support every step of the way:
The great thing about joining any franchise business is that there are a host of ready-made systems, processes and procedures in place. Clarriots Care can offer you a successful business model. We'll help you in all manner of areas, including:
Business Setup
Marketing – including a £1200 investment into your launch campaign
Sales · Recruitment, Training & HR
IT, Software and Telecoms
Finance & General Business
Quality Assurance
Development
Accreditations & Registration 
Life within the office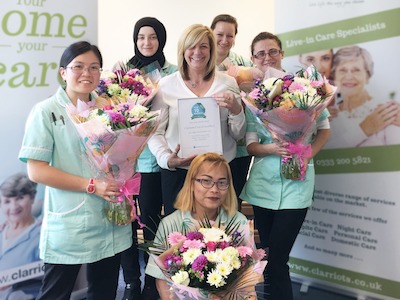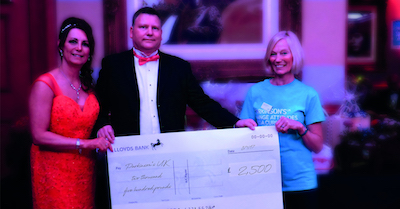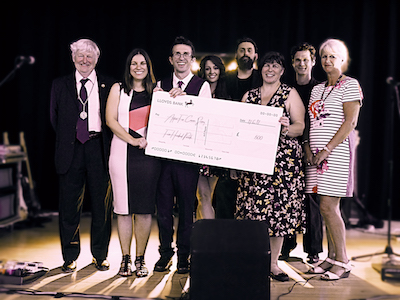 Coventry
Clarriots Care's Coventry office has been named as one of the top 10 most recommended homecare companies in the West Midlands by national review website homecare.co.uk, which receives more than 3 million visitors a year.
Lancashire
Clarriots Care's Lancashire South office organised its now famous 'Glitz & Glam' ball in order to fundraise for Parkinson's UK and its local support group in Chorley and South Ribble.
The care provider is a long-standing friend to the charity after raising £2,000 for the cause in 2013 through their first 'Glitz & Glam' ball. The most recent ball, held at the Leyland Hotel, raised a grand total of £2500.
Surrey West
Clarriots Care's Surrey West Office have officially started their new business in style. Their launch event featured a fantastic performance from local band Alter Ego and raised £500 in aid of local charity 'Action For Carers', a Surrey based charity who support carers from all walks of life.
Clarriots Care is a finalist in the 'Best Print Advert' category in the awards that celebrate innovative marketing campaigns and effective marketing support provided to franchisees by franchisors. Judged by a panel of independent business and marketing experts, these awards are open to all ethical franchisors that can demonstrate marketing excellence. The Franchise Marketing Awards ceremony will be held on Friday 13 October at the NEC, Birmingham, and we are all looking forward to seeing some great work on display from all finalists.
Introducing the Yorkshire Project
Clarriots Care has rapidly expanded across Yorkshire and to continue to build on this success we want to share it with franchise owners by opening further offices across the region. The Yorkshire Project is a commitment to the expansion of Clarriots Care across the county as we aim to become Yorkshire's No.1 care provider. Due to the high demand for our services across the region we have identified key areas for expansion and development across the county.
The project means that extensive support will be offered to our Yorkshire offices from our Regional Office in Leeds East. Set up in 2016 and quickly establishing themselves as a major care provider in the region, you will work closely with our expert management team who will support you every step of the way.
Every territory that is part of the Yorkshire Project has been carefully selected and vetted to ensure that it offers a wealth of opportunity to its new owners. Clarriots Care territories within Yorkshire also qualify for extra support and increased resources as part of our exciting Yorkshire Project. You will benefit from our reputation of delivering a high quality care service across much of Yorkshire and the established relationships we've built from our success so far.
As a commitment to provide extra resources and support to this project, our Franchise Support Manager, Chris Pegg, has relocated to York to be at the heart of this project.
Four reasons why the Yorkshire Project will work for you:
We will manage the recruitment of your Registered Manager.
We start building your team for you with 5 carers before you take over the process, meaning you hit the ground running.
Work closely with the experienced and expert Leeds East management team to take on clients in the early stages of your business as you serve an apprenticeship style training programme.
Dedicated Yorkshire based Support Manager to guide you and help you get ahead of the game.
If you believe this is the business opportunity you have been waiting for contact us for an initial enquiry pack with more information on your perfect territory. Start your franchise application with us today to be considered for the rights to an office supported by the exciting Clarriots Yorkshire Project. We look forward to receiving applications from ambitious entrepreneurs who are interested in working with us on this specialist support scheme.
Here is a list of the 10 office territories we currently have available that qualify for our scheme. We are already working on these territories to give you the best chance for success and a flying start. We even have clients in need of your support across many of the following regions.
York & Selby
Wakefield
North Yorkshire West
North Yorkshire East – Thirsk & Northallerton Office
Leeds West
Kirklees – Huddersfield Office
East Riding of Yorkshire – Beverley Office
Calderdale – Halifax office
Bradford South
Bradford North
How to join the Clarriots Care family
If you have a desire to own your own business, genuinely care about others and have a genuine passion for delivering excellent standards in the health and social care sector, we invite you to apply to join our network. Simply give us a call or send us an email, or even visit one of our roadshows or open days to learn more. We can't wait to hear from you!

Videos
Listen as our Head of Franchise, James Fry, introduces the relaunch of our franchise opportunity in association with Ashton's Franchise Consulting.
Testimonials
04 August 2016

"The decision to use a franchise model was based on the fact of being new to the care industry. Therefore needing the support and experience of a company that had not only been successful in this industry but who also shared our vision and passion for the deliverance of quality care, that's where...
04 August 2016

"Healthcare has always been of interest to me as I want to genuinely make a difference to this sector. After researching many different franchise businesses and meeting with them at franchise exhibitions, Clarriots Care are the most diverse with 18 different services in their portfolio. Managing ...
04 August 2016

Alastair Richardson – Franchise Owner – Lancashire South  
Case Studies
05 August 2016

Nowadays, almost one in every five franchises are being launched by those under 30 years old. But why? We caught up with Pearl - 29 years old – on the twelfth night of her two-week in-house intensive training session with Clarriots Care and asked her why she's recently started her franchising jou...