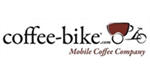 Coffee-Bike - Mobile Coffee Franchise
Run your own Coffee-Bike, a mobile coffee shop with a unique design. You can work full-time or part-time.
Profile
Become an entrepreneur with your own Coffee-Bike mobile coffee franchise
Become an entrepreneur!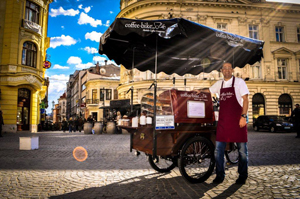 Why don't you take the step into independence now? All you need is to share our passion for coffee, your own motivation, good communication skills and the commitment to deliver an excellent service.
We will provide you with the rest: Your own Coffee-Bike, a professional Barista training and equipment, all the know-how of a proven concept as well as ongoing support. This should be a promising start to a long-term relationship.
Take advantage of a proven concept!
Our philosophy consists of product quality, mobility and entrepreneurship.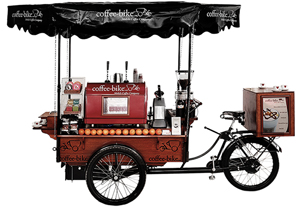 We guarantee to always provide high-quality products. Our customers can choose from carefully selected treats, starting from coffee specialities made with our own organic coffee beans to various tea flavours, freshly-squeezed orange juice, delicious cookies and much more.
Regarding the mobility, the Coffee-Bike is self-sufficient, you can run it anywhere without water or electricity connections all day long. Operate in Shopping Centers, on fair grounds, attend weddings, birthday celebrations, sport events or cycle around on the high streets. Whatever you might think of.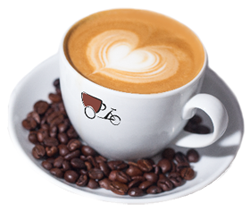 Having to make a large investment to become your own boss is a thing of the past – with us you can be an entrepreneur without a big financial commitment. On top of that, you can always rely on the support of our great team, who are there for you all day every day.
Additionally we were honoured at the "Gründercampus der Gründerwoche", at the competition "Durchstarter 2011" (top 3) and we won the award of "Best Newcomer 2011" in Germany.
Characteristics of the Coffee-Bike franchise concept
Your own coffee shop: With your own Coffee-Bike you can experience entrepreneurial freedom and the highest possible flexibility, while maintaining low operating costs.
Low initial investment: The investment level is unrivalled low. You can choose between our purchasing- and our rental model as well as your preferred bike version: our traditional Coffee-Bike or the E-Coffee-Bike.
Low or no monthly fixed costs: Avoid the large fixed costs of a local coffee shop! Moreover, there is no fixed revenue minimum – no revenue means no franchise or marketing fee. Those fees are only applied to the coffees you actually sell and not to any other products. No hidden fees.
Brand concept and company culture: You can benefit from a proven concept, a strong brand and a company culture which always guides us in our daily work.
Unique design and innovative technology: Since the foundation, we have been continuously improving our Coffee-Bikes in design and technology. Hereby we are always incorporating the experiences of our partners. The Bike is completely "made in Germany" and its construction plan is legally protected.
Flexibility and mobility: You can choose the time and location of your business, be it part- or full-time. The Coffee-Bike is self-sufficient and can be operated anywhere.
Private, public and corporate events: You can choose which events you like the most. As an additional support we offer free usage of our Event Portal.
Sustainability and environmental protection: We are very proud of being 100% CO² neutral, of using the finest organic Espresso beans from selected coffee farmers and of serving our coffees in environmentally-friendly paper cups.
The Next Steps
Sign up for one of our Franchise Information Days in the United Kingdom or at our headquarters in Germany and get to know the Coffee-Bike and our team. Fill out the form below to get some more information on our franchise concept.