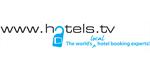 Hotels.tv - Travel Franchise
Internet/home based business. Online Hotel Booking. Automated online hotel bookings possible 24 hours a day in your city territory.
Watch Video
Exciting Business Opportunity

Fast growing home-based Franchise community with over 75 Agents in 15 countries.   Recruiting new Franchisees in the USA, Canada, the UK & Europe 

Become the exclusive agent in your city. No experience required. Full training provided.

Can you be passionate about great hotels in your city and around the world?

Can you help individuals, companies, groups and events to book their accommodation?
Hotels.tv is a global hotel-booking agency, which uses hotel videos to promote hotels (As seen on Youtube.com/hotelstv). We have motivated Franchised Agents located in cities around the world. These Agents work with individuals and online bookings, as well as companies, groups and event organizers, setting up private booking areas for their events. They all earn revenue from commission paid by the hotel.

This is a very fun and rewarding business opportunity, which you can run from home or small office with very low overheads. Many of our Agents have booked large groups and companies earning them high revenues per booking, and keep these clients year after year.
Hotels.tv provide the following:

Fantastic cloud-based technology, with easy to use booking and content management system,

Exclusive destination on the public website

Create private booking areas for special clients

Proven business model with over 15 years experience

Ongoing Training and Support with Online tutorials and videos.

Fast growing network of Franchised Agents worldwide

Latest video technology for promoting hotels

Invoicing, credit control and payments done for you

Exclusive Franchise License which you can re sell

12 Month Money Back Guarantee – see Terms in Information
The hotel industry is worth $250 billion per year, and this is your opportunity to share in it.
Average Franchise investment is under £10k. Enquire to see if your city or destination is still available. All territories are exclusive to one Franchisee and subject to availability at the time of purchase.

Videos
01 November 2011

Harrison Brown, CEO and founder, explains the opportunity.
27 October 2011

Office Expo 2011. Earls Court, London.
My Request List
Javascript must be enabled to view your Request List
We Also Suggest