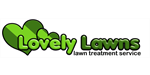 Lovely Lawns - Lawn Treatment Franchise
You could earn a potential £100k gross profit with this lawn treatment franchise.
Finance requirements

Initial Franchise Fee: £4,950

Available areas

UK
Profile

NEW YEAR OFFER! BUY NOW PAY LATER
OFFSET FEES UNTIL SPRING 2018
LAWN TREATMENTS
We improve the quality of the customers lawns with specialist licensed chemicals, it costs around £3 to treat the customers lawns and we charge on average £25 per customer. Each customer has x5 treatments per year, rolling ongoing customers. Most days we treat 30-40 lawns a day.
You can expect to get thousands of customers quite easily if you market as we advise. You can easily make £100,000 gross profit from 1000 customers if you run your business the right way with our training and advice.
IS LAWN TREATMENT FOR ME?
Lovely Lawns is a people centric business, you will be working with people and you must be a good communicator and confident dealing with the public on their property, making sales, answering customer queries.

ROLLING ONGOING CUSTOMER BASE
The beauty of a Lovely Lawns franchise is that, your customer base is built on an ongoing rolling basis, this means you build a pool of ongoing customers and as the business grows, the need and costs for marketing drops as the business establishes and the customer base grows, you can sit back and just service the customer base.
WHAT IS LAWN TREATMENT?
Lovely Lawns are a lawn treatment company that specialize in lawn care. We do not cut grass or bushes or do general garden maintenance.
Lovely Lawns specialises in taking inferior quality weedy lawns, and making them into lush weed free gardens that neighbor's will be jealous of. Lawn treatment is specializing in the chemicals machinery and procedures to improve the quality of lawns for the customer.
We treat the lawns using licensed chemical products, these products are very strong and are not available to the public. We use the same products that are used on golf courses and football pitches.
The products we use are very strong and effective. After we have treated the lawn, within two weeks the grass will grow bigger thicker and greener than it normally would. The products we use are like steroids and vitamin tablets for the lawns.
Each Lovely Lawns customer gets x5 treatments per year. The treatments are spread out seasonally. We use different chemicals and treat the lawns for the season we are in specific to the weather and conditions.
The treatment prices average £25 per customer
All the treatments we use are safe for children and pets.
No customer contracts, this ensures lots of sales commitments from the public.
You should expect a modest growth of 350 customers per year, more if you sell at the door regularly.

WHAT YOU GET WITH A LOVELY LAWNS FRANCHISE
Lovely Lawns offers you a huge territory of 100,000 homes
PA1 PA6 pesticide spraying certificate worth
You will get a 1-2-week training course.
Branded website with content
Lovely Lawns video library of over
40 branded explanatory videos
Lovely Lawns social media page
Lovely Lawns branded sales cartoons for online sales
Lovely Lawns van logos and contact details
Top brand fertilizer spreader
Top knapsacks sprayer Lovely Lawns
Lovely Lawns embroidered branded uniform
You will also get 15,000 Lovely Lawns A5 leaflets
You get safety equipment spray suits, boots, goggles
100kg of fertilizer
5 liters of specialist herbicide weed killer.
You also get 100 A5 branded glossy invoices.
A DAY DOING LAWN TREATMENTS
You set off each morning with a round of around 30-40 customer addresses, you work from a job sheet, you attend each of the 30-40 houses and spread industrial chemicals on the lawns, killing the weeds and fertilizing the grass. Each house takes approximately five minutes to do. Once you have finished you knock at the door and give the customer the invoice, the customer gets seven days to pay. You then visit each customer every 10 weeks using different chemicals for different seasons.
HOW MUCH ARE YOUR FRANCHISE FEES?
£250 per month year 1
Please bear in mind £250 is half a day's profit, once you are working. We offer very low set fees rather than a percentage model that increases with your profits. Lovely Lawns believe in a small franchise fee. this also enables franchisees to take cash at the door from the customers which helps cash flow. We find set fees help the relationship between franchisor and franchisee as there is no reason to check franchisees accounts and books monthly.