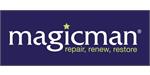 Magicman - Service Franchise
Run a service business that is innovative, dynamic, highly rewarding with Magicman, the UK's experts at repairing hard surfaces.
Finance requirements

Initial Franchise Fee: £19,500
Profile

Your own service business with huge development potential
Run a service business that is innovative, dynamic, highly rewarding
If you're seeking a business that's already a market leader, for which demand is continuing to thrive, trains you to be a skilled technician, provides enormous satisfaction and potential earnings of £50k plus then a Magicman franchise could be exactly what you're looking for.
Magicman is the UK's experts at repairing hard surfaces of all types, offering significant savings and environmental benefits compared to replacing fixtures, fittings and furnishings. Innovative techniques developed over 20 years enable Magicman franchisees to restore, reinstate and re-surface damaged surfaces such as wood, laminate, uPVC, metal, ceramic, stone and even glass, achieving an exceptionally high standard of repair.

Damage such as cracks, scratches, chips and dents are virtually impossible to detect following the Magicman treatment. As if by magic!
How Magicman will help you be a successful business owner
Huge demand: You'll be offering an innovative repair service for which demand exists from all sectors of the property market
Market leader: Magicman was established over 20 years ago and has built a significant reputation for quality service and is fully accredited.
Easy to administer: Our support package includes a dynamic IT system that allows franchisees to effectively manage their business, handling accounts, marketing and work scheduling
Central job booking: Our Call Centre books jobs and surveys on behalf of franchisees
Key Accounts: Franchisees benefit from work available from our established portfolio of key account customers – construction, facilities management, utilities, insurance
Powerful marketing: We provide franchisees with effective marketing tools to help drive business growth in the local market.
Professional standards: Subscribing to our professional service values allows franchisees to build a base of regular, loyal customers
Partnership: Our franchisees will be in business with a partner that wants them to succeed.
 A compelling business opportunity – innovative technology, substantial demand
Owning a Magicman franchise means you'll be using state-of-the-art technology to provide a range of specialist services, to both residential and commercial clients, providing multiple revenue earning streams. 

The market is vast, comprising all property owners – householders, hotels, builders, insurance companies, landlords, facilities managers. We also work for delivery companies, cruise lines, caravan and motorhome owners, and for other service providers such as removal companies, tradesmen, kitchen & bathroom fitters.

Magicman's ability to repair damaged surface or fitting on-site is compelling when compared to the cost and inconvenience of replacement. Companies and householders are under increasing pressure to reduce costs and so demand for the cost efficient repair and re-surfacing solutions provided by Magicman is inevitably growing.

Furthermore, environmental benefits are offered due to the avoidance of waste arising from disposal of replaced items.

The unique MagicMan repair technology presents franchisees with a distinct competitive advantage and with market demand growing the potential to build a thriving and profitable service business is considerable
Fully trained and supported all the way
Magicman franchisees run their business from home, with a fully equipped and liveried van. They devote time and energy to delivering their specialist repair service to homes and businesses within their territory.  The typical day also involves:
Dealing with surveys and quotes

Business Administration

Business Development 
Using our tried and tested marketing techniques to promote the service involving tactics such as networking, advertising and leafleting.  Your workload may also be enhanced by undertaking jobs on behalf of Magicman's key account customers. These include:
Construction companies

Insurers

Utilities 

Retailers
The training and guidance provided is designed to ensure franchisees are able to effectively handle all aspects of running the business. Following our 4 week technical training course you'll be fully capable of performing all basic hard surface repair. Your skills can be further developed by attending supplementary training courses we run. You'll also be fully inducted into how to use 'Magician', our Franchise management program that deals with business administration, including bookkeeping, and to co-ordinate regular marketing campaigns.
We'll support you all the way. You'll have access to:

Professional marketing campaigns

On-going mentoring.

Importantly, we'll deal with customer calls on your behalf, booking jobs into your work schedule.

You'll also be provided work from our established portfolio of Key Account customers.

As the business builds you'll have the opportunity to either expand your team of technicians, adding extra vans and establishing a small administration team or to sell part of the APR so that the work volume is sufficient to continue supporting a single van business.

You'll be the owner of a business, with all the responsibilities this involves and the considerable financial and life-style rewards it offers.
How much?
Magicman will help you build your business, which should provide you with the financial freedom you desire and allow you to take control of your future.
The initial franchise fee is: £24,500 (plus vat). This will provide territory rights, full training, tools and equipment, initial stock, launch marketing, IT system access, stationery, workwear and van deposit. Basically, it provides all you need to be up and running.
Find out more
If you're interested in finding out more about owning a Magicman franchise you should arrange to attend one of Discovery Days. These will tell you all you need to know and include demonstrations of the Magicman repair technology. Discovery Days are held on a regular basis at our Head Office in Brighton. 
News
01 December 2014

Magicman has successfully upgraded its International Standards accreditations to UKAS accredited status following the latest audit of its management systems. The audit, conducted by leading consultancy Alcumus, revealed that the Company is continuing to maintain excellent quality control as a res...