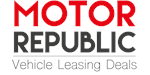 MotorRepublic - Car Leasing Franchise
Become a car leasing specialist supplying local businesses, tradespeople and individuals with unbeatable service and competitive prices.
Finance requirements

Initial Franchise Fee: £18,000
Profile
Become a car leasing specialist supplying local businesses, tradespeople and individuals with unbeatable service and competitive prices on every brand.
MotorRepublic is part of National Fleet Services Limited, one of the UK's largest independent vehicle brokers. We supply millions of pounds worth of new vehicles each year. We can supply every manufacturer, at very competitive prices and with market leading customer service.
As a quality provider of financial products in the automotive industry we have an extensive portfolio of products and services to support customers' vehicles to help businesses and individuals manage their fleet.

High Growth Market
The market for new vehicle finance continues to grow year on year fuelled by attractive tax concessions and an appetite amongst business and individuals to preserve their cash, particularly with Brexit around the corner.
Car leasing is an aspirational and lucrative business to be in because you'll receive generous commissions each time a new vehicle is delivered.
A car leasing franchisee will be trained to be a credible expert in vehicle finance and will sell to individuals and businesses. It is also worth noting that it is not unusual for many business customers to order in multiple units for their staff.
With a usual replacement cycle in the industry of 2 to 3 years repeat business creates momentum and growth for a good franchisee. Also with the high level of service offered referrals from existing customers will provide significant opportunities for the future.
Fantastic Business System
As a franchise owner you'll represent us in your own exclusive area dealing with enquiries and handling client orders, you'll benefit from a carefully crafted business system that has a number of enviable features including:
Ultra low overheads
Flexible hours
No ties to any particular manufacturer or funder
Above average income potential
An exclusive area
No stock or expensive inventory costs new
Market leading deals
Comprehensive ongoing technical and customer service support
Extensive market leading training and ongoing support

Great Marketing
MotorRepublic has a great brand with a powerful parent company behind them. Our website and marketing is designed to appeal to a wide range of potential customers and your marketing inventory will consist of a digital and physical inventory that has been professionally designed and has been proven to work.
You'll also have a locally optimised web page that features your franchise and contact details and we'll train you on social media marketing and how to approach local exhibitions and events.
Become the local expert
We have consistently found that our clients are more receptive to dealing with local business people like yourself rather than web based operators or companies that are based some distance away.
So franchising is a logical step for our organisation and if you are looking for a low overhead business that works with well-known automotive brands with industry leading training and support then this may be the franchise that you have been waiting for.