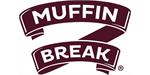 Muffin Break - Muffin Retail Franchise
World's largest speciality muffin retail chain with franchisees selling baked goods to customers from bakeries & cafes in shopping centres.
Finance requirements

Initial Franchise Fee: £20,000
Working Capital: £4,000
Total Investment: £170,000-£195,000

Available areas

Franchise Opportunities available all over the UK. Please fill out the contact form below.
About us
The Muffin Break Franchise is a unique specialty bakery/café concept that operates 220 opportunities throughout Australasia and is growing rapidly with nearly 30 in the UK.
What does it take to be a successful Muffin Break franchisee?

Our most successful franchisees have:

Enthusiasm, ambition, integrity and a strong work ethic.

Strong communication skills.

Personal day-to-day involvement in the management of the business.

Financial security and the financial capacity to open and operate the business.

A Willingness to adhere to the required systems and procedures.

An attitude of success.
Muffin Break provides you with...

The Muffin Break franchise is a "Turnkey" operation which provides you with:

Location
Muffin Break has strong relationships with retail landlords and surveyors and is able to negotiate prime retail sites.

Muffin Break will:

Design each store

Manage the contruction program

Supervise the fitout of each store

Equip each store to the highest standard
Constant contact

Muffin Break consultants provide franchisees with advice on:

business planning

training

baking

staffing

product presentation

local store marketing



 
Financial details
Investment levels for a turn-key package are £152,000 - £172,000 full capital cost.
Franchisees require a minimum of £50,000-£60,000 liquid capital.

Muffin Break has established relationships with the franchise sections of major high street banks and can provide introductions that assist with obtaining finance.

More Info?

Please fill in the form below and we will contact you shortly
My Request List
Javascript must be enabled to view your Request List
We Also Suggest