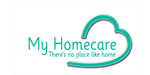 My Homecare - Master Franchise
My Homecare have a Master Franchise Licence available for Wales, Northern and Southern Ireland.
Finance requirements

Total Investment: from £40,000

Available areas

Master Franchise Licence available for Wales, Northern and Southern Ireland.
Profile
Master Franchise Licence – My Homecare
My Homecare are successful franchise with over 30 branches in England and Scotland. We provide high quality care services for elderly and vulnerable people, who wish to continue living in their own home.
My Homecare Ireland and Wales Franchise Territory
The purchaser is provided with training and a licence to trade as, or sell sub divided branded territories, who will trade as My Homecare, within the master franchise boundary of Wales or Northern and Southern Ireland. Total population approx. 9.7 million
This is a total of 28 – 30 individual franchise territories within the master franchise territory. Each territory when established and trading, on average can turnover, circa £1.5 million
My Homecare branches provide care and support for people who cannot fully look after themselves
Domiciliary Care – Live In Care – Supported Living – Befriending
The potential market for social care services is estimated at circa £20 Billion per annum (Commission for Social care Inspection report dated Jan 08). It continues to be one of the fastest business growth areas in the U.K
We will assist the purchaser to recruit and structure a small management team and provide sales, business and care training, so they can manage the successful business model. The purchaser will be assisted to gain registration with the appropriate governing body and roll out training to other branches in their territory.
Purchaser will have the initial licence and opportunity to trade as My Homecare within the boundary for 10 years.
Purchaser will have the option to sub divide territories and sell to others for an initial franchise fee (currently £16,500 + VAT per territory). If sub-divided their franchisees will also pay the master franchise a monthly management fee from 3% of their gross sales.
Sold Separately:
Wales Master Franchise Fee £40,000 + VAT
Ireland Master Franchise Fee £75,000 + VAT
Combined Wales and Ireland Master Franchise Fee £105,000 + VAT (discount applied)
Includes recruitment of management if required, initial training, manual, policies, licence agreements, master website with links to our main website.
Annual Master Licence Fee 1 % of group turnover
Includes ongoing support and advice from UK franchise senior team