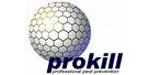 Prokill Pest Prevention - Pest Control Franchise
This van-based pest prevention franchise trains franchisees in all bait & trap techniques for pests affecting private and business clients.
Finance requirements

Initial Franchise Fee: £30-60,000 – Satellite and Full Territories
Working Capital: £10K
Total Investment: £40-£70K

Available areas

Throughout the UK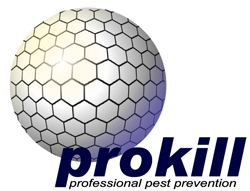 The Pest Prevention Professional Management Franchise
Prokill provides a professional pest prevention service to the commercial, industrial, marine, agricultural and private sectors.
Experienced in treating all types of rodent, insect and arachnid species, in addition to specialising in bird control, our consultants are trained to the highest standards.

As a company, Prokill is at the forefront of baiting and treatment techniques; offering technical support and all related aspects of health and safety, housekeeping, government legislation and proactive pest prevention measures.

In addition to emergency reactive measures  Prokill  specializes in forging long term associations with our customers, acting as silent partners to ensure a healthy future for you and your immediate environment.


 
Pest Control Franchise Opportunity
Prokill not only provides you with the perfect opportunity, but also the confidence, to step out on your own and forge a strong, profitable business and a secure future.

You'll be operating in possibly the most robust marketplace there is in an exclusive territory of your own. Such is the nature of pest control that the source of business is forever expanding as a result of climate change and ever evolving EU and government legislation with regards to Health & Safety.

As a Prokill Pest Control Franchise owner you'll provide a welcome and discreet service to customers who will welcome you as their 'Local Hero', so you won't ever be involved in hard selling practices but you'll be immersed in an enjoyable business that gives you endless variety – from national household names to residential households.


 
Prokill is a clean, professional business management opportunity – so we want to speak to you now if you've the ability to manage others and the commitment to succeed.
Training and Support
When you join Prokill you will undertake a six week training course, both field and residential, in admin, sales and technical skills, leading to the industry recognised RSPH Certificate in pest control and highly coveted national accreditations and qualifications that include ISO9001, BPCA, Link-Up, Exor and Safe Contractor. This will equip you with the skills and knowledge to trade confidently, efficiently and professionally.
Operations
Whether it's our telephone helpline, online invoice billing overview, or credit control assistance that you need, you can rest assured that we'll be there to guide you and relieve you of any daily concerns, so that you can concentrate on building your business.
Who's Ideal for Us
Prokill   franchises are awarded at two levels. Initially you'll be invited to join at 'Area' level. The Area territory costs  £55,000 for approximately 125,000 properties . This breaks down into £25,000 for the franchise fee with approximately £30,000 for equipment/training/set-up. We believe we've got the most professional package of training, business know-how and on-going operational support that you'll find anywhere. Various support packages are available to help you buy into Prokill.

Once you've proven the success of our franchise at area level you'll be invited to double the size of your territory to 'Regional' level if you wish at an additional cost of £25,000.

The beauty of this is that by then you'll probably be funding your expansion from your own Prokill income.


 
Are you up to being a local hero?
Ultimately we believe that if you bring genuine commitment, determination and a desire to manage your own business well, we'll do the rest.

We do have some basic financial requirements, which are there for your and our mutual benefit but thereafter you'll be impressed by the energy and enthusiasm that is the hallmark of the Prokill family.

Your Prokill business can be as profitable and as extensive as your own ambition – and we'll support you all the way.


 
Testimonials
"Having taken out 6 months to identify a viable and saleable business opportunity, I selected Prokill. Looking back over the past 15 months since launch I would struggle to identify a more rewarding or resilient business."
"Since joining the Prokill network in 2007, I have willingly introduced many new franchisees to the opportunity. The business is infectious and it is very rewarding to see them thriving many months later"
"The intrinsic business opportunity is huge. With the guidance of Prokill and the best training in the business, I remain just as excited as the day we launched 15 months ago"
- Justin Holloway, Prokill Thames West
Starting with nothing to creating the business as it stands today in this testing financial environment will always be one of my life's huge achievements. Looking forward, the future projects a robust business with a very comfortable income - I'd like to say it was all down to me but it's not.... Prokill offers plans and foundation for success, my work was choosing and placing the bricks.
- Clive Ticehurst, Prokill E.Herts & W.Essex
Territories/Locations
If we're truly to become Local Heroes on a national basis we need to ensure your success – so we don't deal in woolly population figures or unrealistic geographical territories that might leave you struggling but allocate you approximately 250,000 properties, real business opportunities – a quantity you're never likely to exhaust and which means that every franchisee, wherever he or she is based, has a realistic opportunity to succeed.
We will never exceed 100 Prokill franchisees in mainland Britain – so we aim to give every franchisee an equal share of the country's total properties.

Case Studies
11 April 2013

 Being based closed to one of London's major airports Prokill East Hertfordshire & West Essex is involved in pest prevention work and treatments under demanding conditions. Multi million pound aircraft and their service centres need protection from pests. So Prokill is a regular visitor to hang...
My Request List
Javascript must be enabled to view your Request List
We Also Suggest