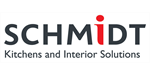 Schmidt - Kitchen Franchise
Kitchen retail/showroom opportunity from the leading kitchen retail brand in Europe.
Available areas

All areas throughout the UK

Success For Over 50 Years
Schmidt Kitchens are the leading kitchen retail Brand in Europe with a turnover of over €300 Million. We now have 1,350 employees and have 4 factories (3 in France and 1 in Germany). Since 1989 we have been developing an exclusive showroom concept and now have more than 550 showrooms in 25 countries.





In 2009, we opened 52 showrooms and wish to pursue our growth with the presence of our exclusive showroom concept in the UK market.
The Strategy
Having been successful in France, Germany, Italy and Spain where we have exclusive showrooms, our strategy is now to further develop in the UK. Our aim is to distribute our products through a network of franchisees who manage their own showroom in line with our concept while getting ongoing help, assistance and support from us.
Our plan is to open between 10 and 15 showrooms in the next 3 years and a minimum of 10 showrooms per year thereafter. 
Be Involved In A Buoyant Market
UK is the 3rd largest consumer of kitchen furniture in Europe. It is unarguable that most UK householders now put a high value on the Interior Design of their home, high quality fitted kitchens will play a major part. Fitted kitchens are now the norm and no longer a luxury. A kitchen is now at the heart of your home and represents a place where we spend most of our time.

Opening a Schmidt's showroom goes hand in hand with a great turnover and a profitable business. Not only do you   join a brand associated with quality but also the 5th kitchen manufacturer and the leading brand in Europe. 
Schmidt offers a 4 week fully comprehensive training programme. This training will  enable you to acquire the required skills to perform efficiently in your new role. At the end of the training, you and your team will:

have a great product knowledge

feel comfortable in applying Schmidt's sales techniques,

know how to design kitchens with our CAD design software,

be able to confidently use reporting and management software tools.

The assistance is permanent before, during and after the showroom's opening. We have put in place a training programme that can only guarantee your success.
Schmidt Is Always At Your Side
Independent, But Not On Your Own!
Schmidt is at your side on a daily basis in assisting you with the success of your showroom. You will get support from various departments; you will get marketing advice, I.T support, sales support, recommendations with rega rds to your showroom layout...

Three Financing Partners
A Schmidt's showroom is financed by:

you, and your personal investment,

Schmidt's financing with regards to the interior concept,

and the bank that finances the refurbishment of the showroom.

Schmidt will finance up to 40% of the overall project.

In collaboration with your accountant, we will help you to set up your business plan. In addition to this, we will come with you to the bank and help you to present your business plan in order to secure the loan.
Your Showroom Is Profitable In No Time

No Entry Fees & No Royalties.

No Stock: Kitchens are delivered directly to the consumer.

No Cash Flow Issues: You receive a 25% deposit from the consumer at the order.

A Comfortable Margin: *43% gross margin.

A Swift Return On Investment: On average, a Schmidt's showroom is paid back within *2 years (After year one). After 2 years of trading, an expected average turnover of about *£1,7 Million.

(*Figures are based on the average performance of our existing showrooms in France)
My Request List
Javascript must be enabled to view your Request List
We Also Suggest