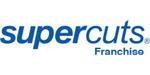 Supercuts - Hair Salon Franchise
Join one of the most recognised and popular salon brands in the UK. Supercuts serve over one million clients annually.
 Watch Video
Finance requirements

Total Investment: £71,900

Available areas

Opportunities are available across the UK & Ireland
Profile

Operated in the UK under Regis UK Ltd, Supercuts is a competitive and branded choice in a marketplace full of independent salons.

The hair care industry is a vibrant and creative one and Supercuts has tapped into it becoming a top choice for those looking for convenience, great style and service without the high price tag.
Our comprehensive operating, marketing and financial systems, mean that instead of cutting hair you can focus on using our proven business concept to create your own profitable manager-run salons.
The number one thing that you need to know is that you do not need to know anything about hair to own a Supercuts franchise.
Your professional team will handle all that, while also staying at the forefront of changes and improvements in hair styling due to the ongoing training they receive from us. Your objective as franchisee is to guide your business development and expansion.
You will:
Recruit a strong team
Establish ties in the local community
Select and implement marketing plans
Build your income by executing Supercuts company strategies
Delegate responsibilities and empower team members
Work with Regis UK Ltd to ensure the growth of your business
Provide vision and accountability for operational excellence

The Supercuts Business System
With a Supercuts franchise, you benefit from multiple revenue systems, providing a stable foundation for multi-facted sales growth. These include:
Haircuts: The core of our service.
Salon: We offer a range of additional hair services – shampoo conditioning treatments, blow dry / styling, beard / fringe trim, hair colouring, and if the location allows, nail and brow services.
Hair products: We stock an assortment of popular hair care brands: Paul Mitchell, Redken, TIGI, ghd, American Crew and the exclusive Designline brand.
Why open a Supercuts franchise?
There is built in demand – haircuts are always necessary
It is a recession resistant industry
Hair salons are technology resistant – hairdressers are highly unlikely to be replaced
We have easy operational procedures
Minimal inventories and cash transactions
The benefits of owning a Supercuts franchise
Supercuts is a beloved brand: We are one of the most recognised and popular salon brands in the UK, and serve over 1 million clients annually. In the US, Supercuts is the number one hair care franchise. Entrepreneur Magazine have ranked Supercuts as No. 3 in their 2016 Annual Top 500 Franchises!
A tested platform: With 30 years of experience, we have streamlined salon operations. Our procedures are easy to implement in an efficient fashion.
Effective marketing strategies: With almost 200 salons across the UK, and 2,400 more worldwide, Supercuts knows how to market the brand proficiently in both traditional advertising and on digital and social media platforms.
Quality recruitment: Supercuts helps franchisees find the best managers and team members, continually training and educating them when needed.
Keep your full-time job: As a franchisee, you will benefit from being able to keep your full-time job and open multiple units with a limited time commitment.

Running a Supercuts franchise
The ideal operational set up:
Manager run: Salons are run by experienced full-time managers, and so do not require the constant presence of the franchisee.
Professional staff: Supercuts salons employ professional stylists and technicians who are fully trained. Supported by administrative and management teams, the staff are able to put their skills to use to ensure an excellent service.
Predictable salon rhythm: Supercuts operates proven and efficient processes, so each day runs in a reliable fashion which allows the staff to serve more clients. This standardisation streamlines training, quality assessment and continuous improvement.
Regular hours: As our salons operate during the usual retail business hours, you can maintain a healthy work-life balance.
We are looking for professional men and women who know nothing about cutting hair and possess strong management and leadership skills, good business and financial acumen and a strong desire to succeed.
Your role is to run the business side of the business, while leaving the day-to-day operations and servicing of guests to your employees. This frees up your time to work "on your business," not "in your business," and enjoy more freedom and flexibility than you ever could have imagined! You will benefit from being able to keep your full-time job and open multiple units with a limited time commitment.
Our Franchise Fee is just £10,000 per salon, with monthly franchise fees starting at just 4% in year 1.
The cost of setting up and equipping your salon will vary depending on size and location but typically the range is from £62,000 to £168,000 with a working capital requirement of between £10,000 to £25,000.
In addition, Supercuts franchising candidates are required to have £75,000 in liquid capital. Supercuts has established relationships with banks and vendors throughout the UK, and can assist franchisees with securing up to 70% of the required financing, subject to status.
Opportunities are available across the UK & Ireland!
Contact us today for more information on taking the next steps with a Supercuts Franchise.
Videos
Supercuts franchisee Brian Papenberg is able to continue working full- time as a corporate IT Project Manager and still has time to operate two Supercuts hair salons as his own business. SHOW MORE
News
19 November 2015

Leading high street salon brand, Supercuts, is set to launch a new franchise model in the UK, as it prepares for a surge in business growth. The brand, owned by Regis UK, is set to roll out the franchise programme this summer, following the success of a similar model in the US. The model follows a...