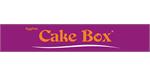 The Eggfree Cake Box - bakery Franchise
Bakery franchise offering freshly made cakes, with the additional draw of being egg-free and made on demand.
Finance requirements

Total Investment: £85,000 +VAT

Available areas

Opportunities are available throughout the UK.

Here at The Eggfree Cake Box we make delicious, individually-crafted celebration fresh cream cakes in-store and on-demand for everybody, even those on a lacto-vegetarian or egg-free diet. For special occasions or a treat, our modern, busy lifestyles means very few of us bake our own or have time to pre-order and that's why The Eggfree Cake shop concept has proved so popular.

Fresh Cream Cakes On Demand

The great thing about our service is that you don't have to pre-order or wait too long for a personalised cake, in fact the average time is only twenty minutes. We also have a range of cake slices for immediate take out to incite the customers taste buds which often translate into purchasing a whole cake. We want to bring this concept to a high-street near you so come and join in our success and become a franchise owner.
Why Open An Eggfree Franchise Now?

For special occasions to an everyday treat, we all love cakes but our busy lifestyles means very few of us bake our own and that's why The Eggfree Cake shop has proved so popular. We are all looking for fresh food too and we give our customers a chance to treat themselves with quality cakes made with natural ingredients.
These recent findings by a renowned research company show some interesting consumer trends:

growing consumer concern over fresh foods and well-being
awareness and complexity of food allergies are rising rapidly in the UK

'free-from' food

is a small but burgeoning sector

increasing impact of health and diet on the free-from market

This is all great news for The Eggfree Cake Box and any potential Franchise Owners who recognise such a promising business opportunity at just the right time. Let's look in more detail at the franchise proposition.
What We Need From You
To successfully expand, it is very important that we recruit the right people to work with our team. We are looking for people with the right attitude – you must be prepared to follow an established business model and be flexible as changes arise. As
well as the usual business acumen, we are looking for:
a genuine commitment to providing the highest quality egg-free cakes to a diverse range of customers and communities

an awareness of dietary needs

an understanding of the needs of those who suffer from food allergies

commitment to providing the highest levels of customer service in a retail environment

team players – franchising is all about the wider network and you will become part of a supportive 'family' of Franchise Owners
What You Can Expect From Us

In addition to our extensive initial training programme which takes you through all aspects of retail operations, we provide full support to get your business up and running. Here is how we will support the operation:

Site selection

Full training
Shop design
Equipment Ordering
Operation & product manuals
Direct support
Continued product development & Innovation
We firmly believe that "Your Success Is Our Success"

We think the concept of 'cakes on demand', bought on the local high street and made to customer requirements has great potential, so if you would like to be part of this exciting retail opportunity we'd love to hear from you. Please fill in the form and share in our success.
 
My Request List
Javascript must be enabled to view your Request List
We Also Suggest