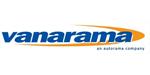 Vanarama - Commercial Vehicle Broker Franchise
The UK's largest independent commercial vehicle broker, suppling thousands of new vans and pickup trucks every year.
Available areas

Opportunities are available across the UK.
Looking for the perfect 'bolt-on' business, or just hoping to strike out on your own?
About Vanarama

Vanarama is an online success story specialising mainly in commercial vehicle leasing. Our strengths are our position at the top of all the search engines; our independence - which means that we can offer the best deals from any manufacturer; and our volume of sales which gives us the best prices too.­

Unlike our competitors we can also complete the part exchange of our customers' vehicles and provide one-stop-shop service. Through franchising we can get "face-to-face" with buyers all around the UK, and when you join Vanarama, we'll provide the best training and support in the industry so that you can become the local face of Vanarama and become part of the UK's Number One!
We'll genuinely embrace you in the business and go the extra mile , so that we can help you to create a financially and personally rewarding business for yourself.  You'll also get an exclusive territory. If there was ever a recipe for a successful franchise, we have it
Why the Commercial Vehicle Leasing Business?
Commercial vehicle sales have risen by an average of 8.5% year-on-year in the past four years. Not only that, but in the same timeframe, the use of leasing as a way to acquire commercial vehicles by small businesses has risen by an astonishing 13%. This increase in van leasing looks set to continue in future, as more and more firms, particularly small or medium sized enterprises (SMEs), are becoming aware of the difficulties of borrowing to buy.
Managing Director, Andy Alderson

"In a few years we have become the UK market leader, selling millions of pounds worth of vehicles every year; and in the process, we've overtaken every other independent broker in the UK."
Your Marketing
We have a powerful trading brand with a direct focus, and a dominant position on the Internet. When you begin trading, we'll provide you with a launch assist package that gets your name out there, and announces that you are open for business.
Customer Relationship Marketing

Vanarama Succcess Principles
Once your new busines is underway, and you are talking to you first prospective clients, our Head Office team will swing into action and hand-hold the process, right through to the moment that the client's new vehicle is delivered to their door.
Your Customers
By having a local presence, you'll also be able to access clients that we cannot deal with directly, or those who simply prefer a face-to-face interaction. However, when you do see them you'll be able to offer the UK's best deals, the best choices and the best service levels.
Your Franchise Package
Vanarama's franchise package includes everything that you need to get started from the basics like business cards, through to full integration into our sophisticated lead management software. There is extensive back-up and human resources at Head Office, to provide the tangible support that can make all the difference between success and failure. With an income potential of around £70,000 in Year 1 and a low investment of £29,495, a Vanarama franchise makes a perfect standalone or bolt-on business for any entrepreneur or existing motor trader.
If you would like to receive more information about the Vanarama franchise opportunity, please fill in the contact form below.
My Request List
Javascript must be enabled to view your Request List
We Also Suggest