Little did Mike Watts suspect when he first invested in an Ovenclean franchise that after four years his business would become a real family affair, first involving his wife Janeane and subsequently his sons Byron and Daniel. "It wasn't my intention to build a family business as such," he says, "but I'm so glad that we're all working together with shared goals and a shared commitment to the future – we love it!"
Previously, Mike had a small shop in his village; when it closed he transferred his stock and for a while looked after the newsagent side of another store. However, he missed having his own business and realising he had lost interest in retailing, started to look around for something entirely different.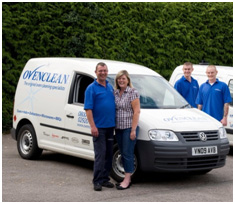 Having decided that an Ovenclean franchise was the way forward, Mike launched his new business in June 2005. It took off quickly and soon became sufficiently successful for Janeane to reduce her hours at the Bank and join the business part-time to handle administration and help with new sales calls. Shortly afterwards the couple's younger son, Daniel started to work for them too, providing extra back up for Mike.
"Today we have around 2,700 regular customers," says Janeane. "We have two vans on the road and are busy six hours a day, five days a week.  Currently, we are booked up to three weeks ahead, which is great for us, but isn't  good for new customers who usually want their ovens done as soon as possible. That's why we decided to take on Byron, our elder son, too."

Year on year the Watts' Ovenclean business has grown. Although there was a short 'blip' when the credit crunch first kicked in, things have picked up for them in leaps and bounds – in fact, they have expanded to take on a second territory and are thinking of adding a third van!
Janeane concludes, "we're more confident than ever now we have the boys on board and we're looking forward to growing our fantastic family business even further!"