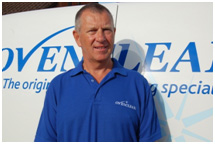 After thirty four years working for Lloyds TSB, Ian Morley knows a good investment when he sees one. 
When he was first made redundant from his job as a Lean Consultant, Ian initially took some time to carry out work on his house, but he always knew that being in his early fifties he was too young to retire and would eventually need to find other employment. Several unsuitable job offers and unguaranteed contract work was the catalyst to make Ian consider self employment and after discovering Ovenclean at the British Franchise Show, in Birmingham, his mind was made up.
 "What really attracted me to Ovenclean was the fact that the business is simple to manage. I could see the opportunity for repeat business and with some 30,000 homes in my territory there should be more than enough opportunity for me to continue to expand.  With 27m households in the UK, the majority with at least one oven, not to mention BBQ's and microwaves it is easy to see how you can make money."
Ian's strategy was to use his local knowledge and relationships to build a loyal customer base in his territory. Now just over a year later, Ian has a thriving, profitable business and loves the independence that owning an Ovenclean franchise brings:
"Having the flexibility to manage my business and my diary was a massive bonus to me. After a number of years on the road, I am now able to be closer to my family and manage my workload so I can meet both the demands of family-life and my customers."
As the business has grown, it has become somewhat a family affair. Not only do the whole family take responsibility for leafleting, but Ian's wife Hazel helps him with the administration and son Adam sometimes joins him on the van.
Now well into his second year the future looks bright for Ian. He has working relationships with two lettings agencies and will be the designated oven cleaner for their portfolio of properties.
Already with plans to expand, by working with more lettings agencies and developing into new postcodes, Ian feels his investment is more than paying off. He has also struck up a successful partnership working with Andy Darby of sister company, ChipsAway and fellow Ovenclean franchisee Andy Pepper, collaborating in their marketing and advertising.
"An important thing I have learnt since setting up my Ovenclean business is that the best results are achieved by working closely with fellow franchisees. Working together to support each other and share best practice has been very valuable".
Looking back Ian rates his experiences with Ovenclean as first class:
"Being part of the most successful oven cleaning network in the UK, means that there is lots of support available. Ovenclean really helped me get off the ground and grow a successful profitable business. The trainer was great and in particular I found the sales and marketing course revolutionised the way that I do business and attract new customers."
For anyone thinking of becoming an Ovenclean franchisee, Ian has the following advice:
"I would urge any new franchisees starting out to build a relationship with existing specialists in the area. Staying in regular contact will enable you to grow your business and also provide your customers with an excellent service by supporting each other when you're busy."
Ian says he has absolutely no regrets about becoming an Ovenclean franchisee.
"Two years ago I was considering the next challenge in my life and now I have a thriving business and a much better quality of life", he concludes " I love being able to spend more time with my teenage children and my Ovenclean business has allowed me to do this. It can be hard work, especially getting appointments in the early months, but as with anything the more you put in the more you get out. If flexibility and independence are what you are looking for in a business than definitely consider Ovenclean!"
Ovenclean is the longest established and most successful domestic oven cleaning franchise in the UK, providing specialist oven cleaning services to a large, virtually untapped marketplace, including domestic customers and also commercial work such as schools, lettings agencies and hotels. The top quality, powerful yet eco-friendly Ovenclean product range, exclusive to franchisees, effectively cleans ovens and hobs, Agas, ranges and barbecues, restoring them to pristine condition within a matter of a few hours.