Sheree Parker is one of Ovenclean's longest operating franchisees. She joined the network in 2001 and over the years has built a highly successful management franchise. Formerly a senior manager with a leading express delivery company, Sheree has brought to bear her considerable managerial skills to develop the thriving business she oversees today.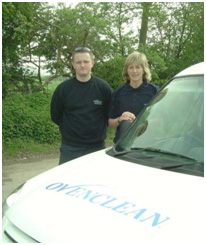 "I worked for sixteen years with the same company before I invested in an Ovenclean franchise," she explains. "I started at the bottom as a courier and worked my way up to a senior management position, gaining a lot of experience and skills along the way. Similarly with my Ovenclean business, I think the time I spent cleaning ovens in the early days has been essential to its success. In order to manage a team of people, you need to have done what they do and understand best practice for an efficient, effective and profitable operation."
Sheree spent her first three years working as an owner operator, travelling to customer's homes to clean ovens. By 2004 she simply couldn't cope alone with her rapidly expanding business and the sheer demand for her services, so she decided to take on a second vehicle and her first employee. It wasn't long, she recalls, until once again the business had reached a level where two people were fully occupied cleaning ovens (on average, Sheree estimates each worker can clean four ovens per day), but that didn't allow for her to spend time on business development. She therefore added a second employee and a third vehicle to the operation and took more of a management role in her business.
"I'd done the fourteen hour days in my old job as someone else's employee, and one of the things I most valued about being self-employed was not having to spend my whole time working," Sheree states. "I certainly didn't want to get into a situation where I cleaned ovens all day, then spent my evenings planning schedules, completing paperwork and designing marketing programmes. My ambition from the start was to develop my Ovenclean business into a management franchise and it's worked really well for me. I work sensible hours and my hourly income works out way higher than my previous salary as a senior manager."
She maintains that the unstable economic climate has presented no problems. In fact she is currently investigating expansion into yet another area. "Our services are not expensive, and most people who use us are pretty affluent," she points out. "I'm not complacent, I recognise that the more effort I put in, the better chance I have of continuing to be successful.  I'm not afraid of hard work, I'm confident about the future and I'm looking forward to taking my business on to the next stage!"