As carpet fitter Paul Foord reached his mid-fifties, he decided that he needed to look for another business opportunity to take him through to retirement. Not only was he finding heaving carpets around increasingly challenging, but the difficult housing market was also impacting on his work and income levels.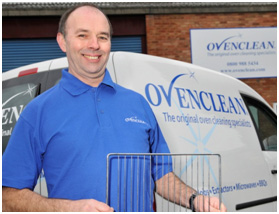 "I recognised that I needed to find a new avenue to allow me to keep working, generate a good income over the next few years and ideally become a long-term investment to set me up well in retirement," Paul explains.
He took a look at several different options, but finally decided that Ovenclean offered the best route to achieving his goals. "I have spent most of my life working in people's homes and so I am used to dealing with people. I also really value the satisfaction of a job well done and a happy customer, so the Ovenclean opportunity struck me as a perfect fit!" he says.
Ovenclean is the longest established and most successful domestic oven cleaning franchise in the UK, providing specialist oven cleaning services to a large, virtually untapped marketplace, including not only domestic customers, but also commercial work such as schools, lettings agencies and hotels. Franchisees operate from professionally liveried vans and so benefit from low overheads and high flexibility. The top quality, powerful yet eco-friendly Ovenclean product range, exclusive to franchisees, effectively cleans ovens and hobs, Agas, ranges and barbecues, restoring them to pristine condition within a matter of a few hours.
Paul launched his Ovenclean franchise two years ago and has already built up a database of around 500 regular customers. He plans to expand his business later this year, taking on an employee to help manage his growing workload.
"I'm definitely on course with my plans," Paul says. "My big focus is on building up a sizeable, thriving business with regular, loyal customers that I can sell on when I decide it's time to retire. The initial outlay for the franchise is not expensive and I'm on a real upward curve in terms of income. That's the big advantage of Ovenclean as far as I'm concerned!"
In the meantime, Paul has been securing new contracts with local estate agents and cleaning companies for multiple oven cleans, complementing his growing numbers of domestic customers.
Currently he averages four oven cleans a day. New business enquiries come from regular leafleting and advertising in parish magazines locally, as well as word of mouth recommendations from satisfied customers. Paul also receives leads from the Ovenclean National Call Centre and website.
"It's a massive marketplace and there's certainly great demand for my services," he concludes. "My business is growing steadily and on current form, I feel sure that I can hit my targets for expansion. I'm very happy that I made the decision to join Ovenclean, I'm thoroughly enjoying it and am looking forward to the future with renewed confidence!"