Autosmart the UK's largest manufacturer of professional vehicle cleaning products, is celebrating 35 years in business this year. It's doing so in style, with record turnover and as the only company shortlisted in two categories in the 2014 bfa HSBC Franchisor of the Year Awards, supported by Express Newspapers.
Autosmart distribute their products through a network of 117 franchisees in the UK covering from Lands End to John O'Groats. The van-based franchise has previously won numerous industry awards, including being named bfa HSBC Franchisor of the Year in 2012, and taking the Best Franchisee Support Award in 2011. This year they've been shortlisted for Franchisor of the Year and for Franchisee Recruitment, with winners due to be announced in June.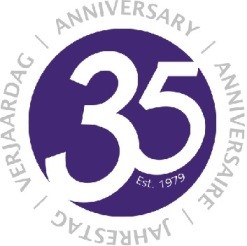 The commemorative logo reflects the international expansion
Autosmart franchisees take the shop direct to their consumers, with all products stocked and sold from their van or truck. Customers can try before they buy, with no minimum order, immediate delivery and expert advice from their local franchisee.
And in a market that was hit particularly hard by the recession, with vehicle sales plummeting, it's all the more impressive that the network has actually grown substantially since 2008 – a testament to the company's product innovation and support for its franchisees. With car sales now strongly rising again, the good times look set to continue.
Commenting on the success of the business, Autosmart's managing director Sophie Atkinson said: "Business has never looked better for our franchisees. Our national sales are up by 36 percent since the start of the recession and our January 2014 sales showed our highest turnover to date with record sales of £1.9 million.
"Our franchisees have the benefit of more customers and each of these customers is buying more because they are busier and their markets are generally up. The market is helping, as new car sales were back to 2.3 million in 2013 and are expected to improve again in 2014."
Sophie added: "We've been franchising for 35 years now and are very motivated by helping franchisees to build their own successful and profitable businesses. As the market changes, we have adapted our business model to meet the needs of both franchisees and customers, ensuring that we always provide the highest quality products and services and the best possible value."
Autosmart will commemorate their 35 years in business this October when they stage their annual conference.