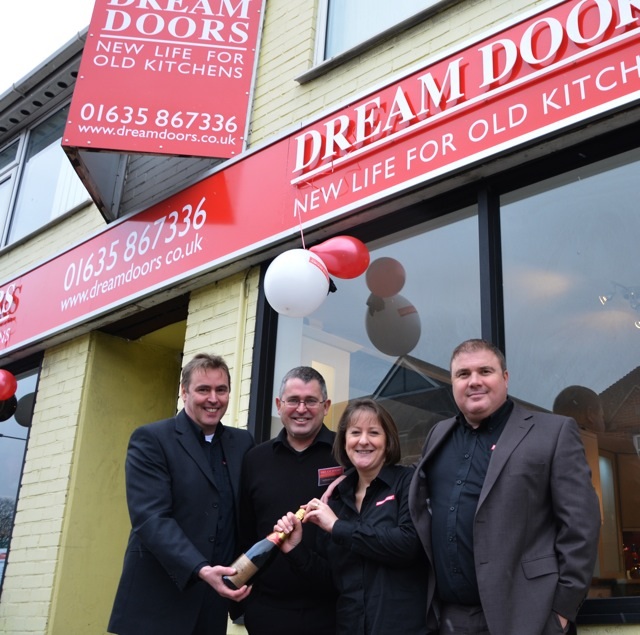 Dream Doors, a Hampshire-based company that is now the UK's largest kitchen facelift retailer, opened its first showroom more than ten years ago. Since then it has grown into a national network of more than 40 franchised showrooms. The latest branch, owned by ex-teacher and active charity trustee Lesley Wallace, opened in Thatcham, Berkshire last week.
It took six months of toil, and a significant investment, to turn a run-down building into a state-of-the-art kitchen showroom. But with such doom and gloom on the high street, what made Lesley ditch her career in the relatively stable education sector and plough her life's savings into a retail venture, and in a new industry to boot?
"I wanted a different challenge after spending years working with schools and charities," she says. "And while my job was rewarding in lots of ways, it was also very restrictive.
"Well, I got what I wanted as it's been a challenging few months! But I believed in this business from the outset. It's such a fantastic idea that almost anyone who takes pride in their home would be interested in. Now we can invite the public into our showroom so that they can see for themselves just what is possible with a Dream Doors kitchen transformation."
Dream Doors provides a flexible service that allows customers to change whatever they want in the kitchen, including new worktops, sinks and taps, and appliances from all the leading brands. But instead of taking weeks to install, most jobs are completed in just a couple of days. So, as well as cutting the cost in half when compared to an equivalent kitchen, a facelift removes the stress and upheaval associated with typical kitchen fit outs. 
As a woman in a traditionally male-dominated industry – especially the practical side of the business – Lesley had a difficult transition to make. Like most Dream Doors franchisees, she left a comfort zone and had to quickly learn how to manage experienced tradesmen, and become versed in alien terminologies. But none of this was unexpected, and Lesley appreciated the candour of Dream Doors managing director Troy Tappenden in their early meetings.
"Everything has panned out exactly as we were told it would," she says. "Troy has been honest from the start, painting a realistic picture with real figures. He identified areas of strength and weakness very quickly, and made sure we had more help in the areas we needed it most. I'm really enjoying being a business owner, despite the stress, and have absolutely no regrets at all.
"We were victims of our own success in the first few weeks," she admits. "We found this showroom before training and used it as a base while it was being renovated. Because of that we had some big early orders, in fact we hold a Dream Doors record of more than £25,000 for our first three sales! One of those customers sent us an email before Christmas to say how delighted they were with their new kitchen, and that they were impressed with the attention to detail. And that was from a time when we really were still learning."
Tappenden, who sold the brand's first kitchen makeover in 1999, says: "It's great to see a new showroom open and we're so pleased to have Lesley represent Dream Doors in the area. She embodies all that we look for in a franchise owner. Starting a new business is never easy and, as we know, there are few people prepared to take such a risk in this climate. Lesley has worked tirelessly since she joined us and deserves all the praise she's getting from her customers."