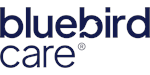 Bluebird Care - Care Services Franchise
Recruit and manage a team of care staff to meet soaring demand in the care-at-home market.
 Watch Video
Finance requirements

Franchise Fee: £37,500 + VAT
Total Investment: £115,000

Available areas

UK – Nationwide
Profile
Bluebird Care is an award-winning domiciliary care Franchise. Starting out as a small family business in 2004, today, we are proud to be one of the largest providers of home care services in the UK.
The story of our success is testimony to the high-quality homecare and support services that we provide to each of our customers. We attribute this to the excellent support our franchise owners receive from our dedicated Franchise Support Team.
The Market Opportunity
The UK has experienced demographic and political changes that have created strong market drivers. These market drivers, such as the rise of 'integrated services' and an aging population, are bringing about significant growth in the social care market. Bluebird Care is well positioned to provide the home care and support that people need now, and in the future to maintain their independence and lifestyle, and most importantly, remain in the comfort and security of their own homes.
Our Model
Bluebird Care is a management franchise. Our franchise owners come from a variety of backgrounds – experience in the care sector is not necessary. However, a genuine desire to make a difference and determination to develop a successful business, by working to a proven business format, is essential.
Award Winning Support
Supporting our franchisees in starting and developing their businesses is a cornerstone of Bluebird Care's success. We have a highly experienced team in place to provide high quality support in all aspects of your business.
The franchise support centre combines a central team and a field-based team designed to give critical business support throughout the business lifecycle. From finance, business systems, IT, marketing and PR to field-based business development and quality assurance support.
In 2017, Bluebird Care won the UK's top accolade in franchising.  Following a rigorous judging process, we were awarded Gold at the bfa HSBC Franchisor of the Year Awards.
The award win is testament to our excellent employee support, company culture, innovation and commitment to franchising ethics.
The Package
Bluebird Care offers a comprehensive Business package which includes:
Training
Support with staff recruitment
Branded stationery
Marketing pack
IT Hardware and Software
Care registration
Staff uniforms
Business set-up
On-going support
Financials
The price of the franchise package is £37,500 +VAT.
In addition to the franchise package fee start-up costs and working capital is requires. Typically, the total investment is approximately £115,000.
British Franchise Association
The British Franchise Association (bfa) promotes ethical franchising in the UK.
Buebird Care has been tested against the British Franchise associations strict and extensive accreditation criteria and are full bfa members.
Videos
30 May 2012
30 May 2012
Case Studies
With a head for business and a heart for care, Sai Visakan is taking homecare in Hounslow to new heights. Sai Visakan is passionate about his Bluebird Care business in Hounslow. 'It's everything that I wanted it to be and more' He said. 'I previously worked in the IT sector and also as a Busin...
Since opening her North Tyneside Bluebird Care office six months ago, Julie McLellan's business has gone from strength to strength.  She is almost 200% above her targets and is well on the way to establishing a successful and profitable business providing high quality care at home. Having spent...