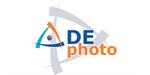 DE Photo - Sports and Event Photography Franchise
Launch and develop your own sports and event photography business. No photography experience required to quickly become a professional.
Finance requirements

Franchise Fee: £17,950 plus VAT
Minimum Investment: £14,950

Available areas

Territories currently available include: Brighton, Cornwall, Romford, Southend, Swansea, Newport, Coventry, Birmingham, Nottingham, Lincoln, Doncaster, Liverpool, Bury, Bradford, Leeds, York, Hull, Preston, Blackpool, Lancaster, Carlisle, Middlesborough, Sunderland, Newcastle, Scotland, Cardiff, South London and Ireland
Profile


Thank you for your interest in the DE Photo Franchise Opportunity.
DE Photo is the UK's largest Sports and event photography franchise.
Originated over 5 years ago and now with 40 Franchises in the UK DE Photo franchise offers a complete and proven sports and event franchise operation containing all the essential elements for you to launch and develop your own DE Photo Business in your exclusive Territory. We will train you and assist you in running your sports and event franchise from day one. We are now appointing our final few Franchisees to build upon the fantastic reputation we have established in this ever-expanding market place. You do not need any previous experience in the sports and event franchise industry - just a love of photography and some business skills that we will help you develop.
In any type of business, having a proven formula helps guarantee success.
Just look at these great benefits!
Low overheads, with high profit
A lucrative & flourishing market place
Major website for all franchisees
Repeat business year after year
Comprehensive training by experts
Full back-up & support
Your own business and growing asset
With a DE Photo Sports and Event Photo Franchise you will be getting the extensive know-how and training necessary to run your own successful business.
The Franchise cost is £17,950 plus VAT. This includes your set up, training and a substantial stock of consumables. You will also need professional camera, lenses and photographic and processing equipment and a vehicle together costing about £30,000 plus VAT. Finance is available subject to status.
We will show you the right way to operate, avoiding the pitfalls which are costly in both time and money. If accepted, you will be joining a highly successful franchise team. Be part of the UK's largest sport and event photography business!
Our expectations are high but so are the rewards. Some of our current Franchisees have achieved over £80,000 turnover in their first year - and our profits margins are very high. Personal growth and financial freedom can be yours with a DE Photo Franchise.
We now have 'going concern' Franchises available in the following areas:
- Bradford - Bromley - Brighton - Dublin - Cork - Essex - Leeds - London -
- Londonderry - Nottingham - Newcastle -
These franchisees are looking for an early sale as their circumstances have changed, so the prices are negotiable close to our normal asking price for a brand new franchise! We look forward to hearing from you.