Dom's Coffee House Business Opportunity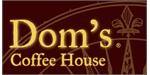 Dom's Coffee House - Coffee Shop Business Opportunity
Would you like to start a coffee shop as your own enterprise, create great customer service and serve the best coffee in town?
Finance requirements

Total Investment: from £10,000 + VAT

Available areas

UK
Profile
Dom's Coffee House are offering committed business owners a share in our success.
We are a fast growing coffee shop in central Bristol, and are offering license agreements in other UK cities, based on our specialized approach.
This gives you the best of all worlds – the ability to run the business entirely as your own enterprise and with the competitive advantage of a complete blueprint for success.
You'll need to be dedicated, hard working and resilient, and although prior experience in the industry is not necessary, a good handling on people management and customer service is a definite plus.
A full managers training package is provided at our Bristol HQ, and if you've never made coffee before, don't worry, we are here to get you up to speed quickly.
It's a brilliant way to start your own business, building on a fast growing UK brand with a known market, and with all the knowledge for success laid out in advance.
We offer :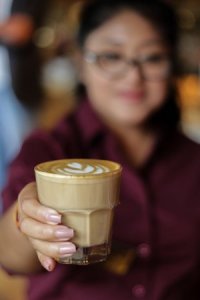 The complete business model from build to operation
Licensed intellectual property to run Dom's Coffee House, limited to one in your city
A complete set of Dom's marketing and print material for store display, local advertising and promotion
Consultation on selecting the right premises for your build and store layout
A precise look and feel store design and build guide, including our furniture manufacturer and suggested store layout for your premises
Book keeping system, VAT processes, cash flow forecasts, and seasonal predictive sales graphs that we know work
Our HR processes, including our staff contracts, suggested staffing and rota methods, induction and our  staff training manual; crucially, what we know works well in recruiting excellent staff
Our lessons on how to successfully submit and present your alcohol license
A full risk assessment for each required element of the business
A complete Health and Safety policy and food standards management system
How to prepare for your environmental risk assessment visit from the Food Standards Agency and gain your necessary 5 star rating
Access of delivery to our great tasting coffee and suggested delivery schedule
Complete equipment specifications for fit-out including the all important coffee machine and grinder
Contact to all our suppliers, complete product recommendations and presentation methods
Details of our reliable low cost EPOS system, computer network operation, and our specialized Wifi setup
Fire risk assessment suitable for your building, including the required emergency procedures
Full managers training package for Licensees at our Bristol HQ including Barista training, and exactly what your staff will need to know to deliver quality customer service
In short, consultation and documentation of every aspect of setting up and running your own Dom's Coffee House in your city.
Contact us for much more information.
"Your Success is our Success"

Location:
Nationwide UK
Premises details:
License holders are to secure their own property, leasehold or freehold, which must be in a city centre with high footfall and good visibility. Consultation is offered on property location, and if leasehold, what to demand in the leasehold agreement.
Planning consent:
The building must have A3 planning consent, or planning prior approved.
Expansion potential:
Our flagship Bristol store currently turns over in excess of £240k p.a.
We expect this to grow, year on year, by at least 25% over the next 2-3 years, peaking around £350k p.a.
We would expect another city store (not including London), carefully located would follow this model.
Competition / Market:
Each license allows the business owner to operate Dom's Coffee House as their own business, however we provide the complete blueprint model and advise that this is followed as closely as possible.
Our competitors are the chain coffee shop operators, such as Costa, Caffe Nero and Starbucks, however we feel that Dom's has a unique trend which makes people feel 'at home'.
In essence, our USP is 'A place people want to come back to, time and again'.
Reason for selling:
We are seeking to expand the business by way of license agreements, which both strengthens the brand and offers the opportunity for other business owners to build on our experience.
Trading hours:
Depending on operation,  but generally:
07.30 am - 7.30 pm Monday to Friday 
09.30 am - 7.30 pm Saturday 
10.00 am - 4.00 pm Sunday
Employees:
Depending on operation: one full time employee as house manager, with a number of casual contracts to cover other shifts
Years established:
Our Bristol HQ was incorporated in September 2015
Support and training:
Full support and training given for licensees, please contact us for further information