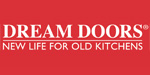 Dream Doors - Kitchen Improvement Franchise
Join the UK's #1 kitchen makeover brand. You'll provide a recession-proof service that's in great demand. No experience required.
 Watch Video
Finance requirements

Franchise Fee: £35,000 + VAT
Minimum Investment: £35,000

Available areas

Franchise opportunities available throughout the UK
Profile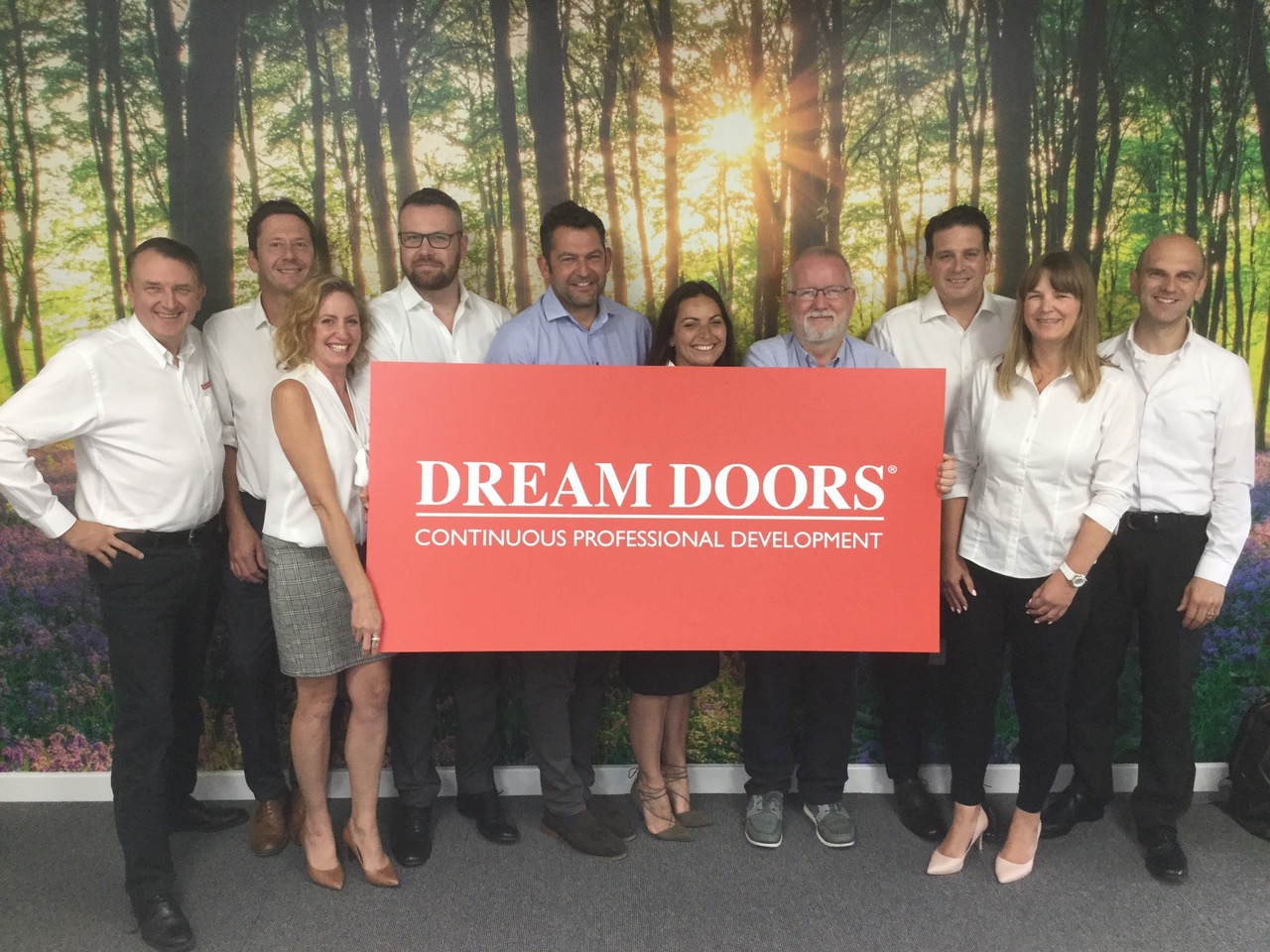 Earn a SIX FIGURE INCOME with this multi-award winning and recession-proof franchise
Annual net profits of £150,000+ are being achieved right now. So you can rest assured that, if you work hard, you'll earn a substantial income.
But what brings you to this site today? Is it just about the money, or are there other factors important to you? Do you want to:
Escape from your current employment?
Be the boss and be in control of your future?
Enjoy a fresh start after redundancy or retirement?
Spend more time with your family, or work closer to home?
Build an asset to sell or to boost your income after retirement?
You can have all of this running your own Dream Doors franchise.
And you DON'T NEED any kitchen industry experience or practical skills.
So, who are Dream Doors and what do they do?
With almost 100 showrooms across the country, and over 100,000 projects completed to date, Dream Doors is the UK's largest and most successful kitchen facelift retailer.
Average annual sales from a franchised showroom is now £600,000+. With your commitment and determination, and our proven business model, you can achieve MORE THAN £1MILLION in yearly turnover and earn a healthy six-figure income.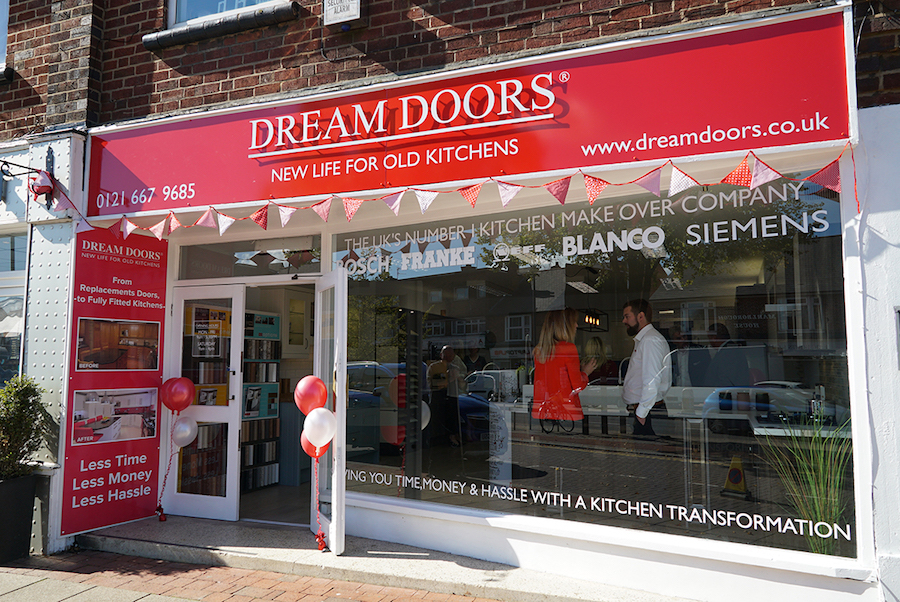 Dream Doors has built a reputation for ethical trading, integrity and award-winning support. With 15 industry trophy-wins to date, we are:
Full members of the British Franchise Assocation (bfa)
Winner's of the bfa's Best Franchisee Recruitment Award
A former bfa Brand Builder of Year
FOUR time finalists in the bfa's Franchisor of the Year Awards
Winners in the government-backed National Training Awards
TEN time winners in the Franchise Marketing Awards
Accredited by the independent monitoring scheme, Checkatrade

Record sales & growth, whatever the economic climate!
Brand turnover has trebled in the last five years with like-for-like sales increasing every year as well. And last year we saw some stellar individual monthly performances:
| | |
| --- | --- |
| £121,016 by Woking & Guildford in January | £137,907 by Norwich in February |
| £128,879 by Cambridge in February | £114,310 by North Wiltshire in March |
| £101,342 by Newbury in March | £100,778 by Rutland in April |
| £93,983 by Wakefield in May | £130,078 by Oxford in May |
| £139,078 by Poole in July | £126,880 by Southampton in August |
| £101,374 by Belfast in September | £113,990 by Sailsbury in October |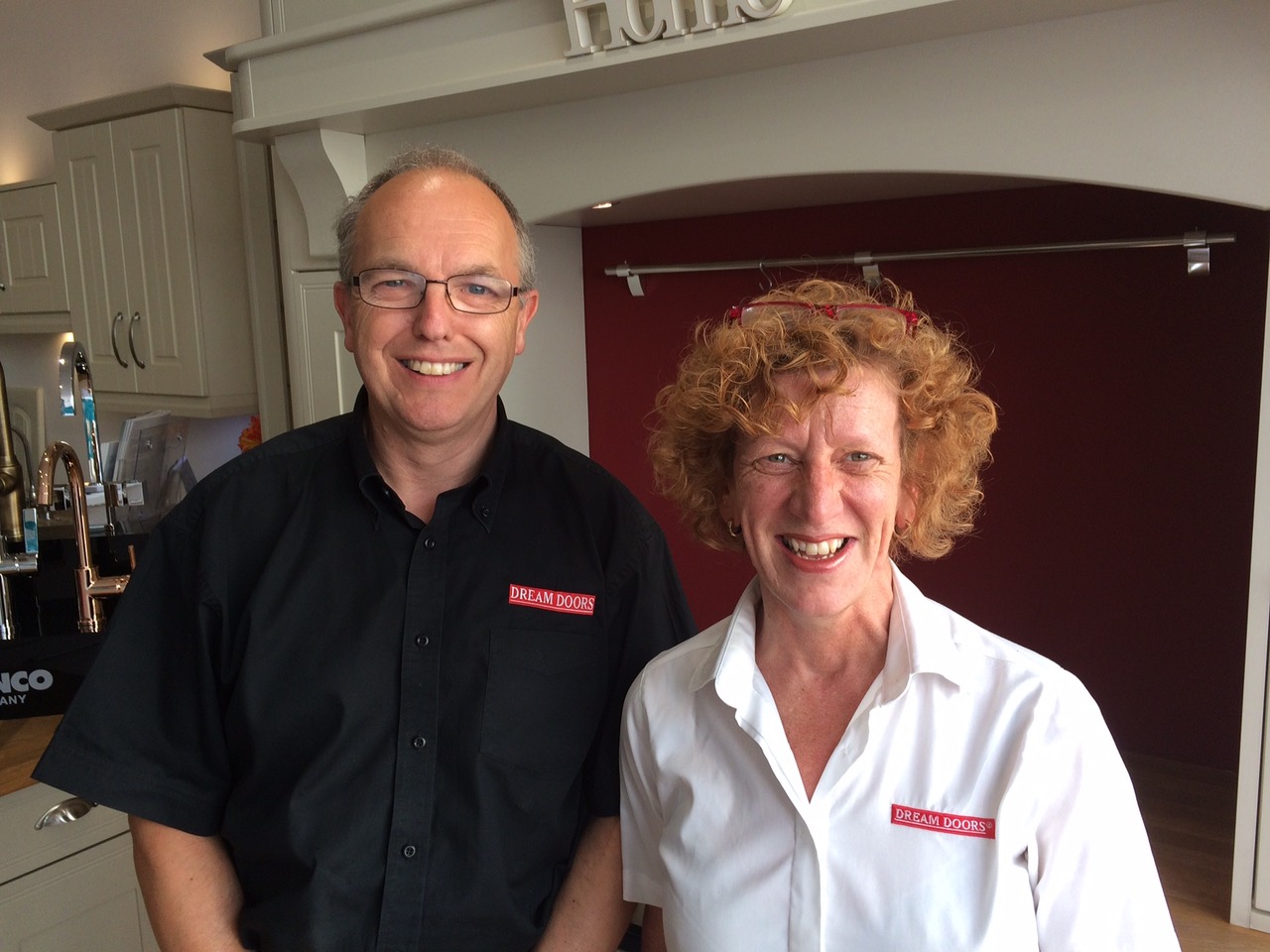 £1.27 Million sold in the last year!
Top of the tree last year were David & Kate Howle of Dream Doors Worcester who sold £1,267,139 – 10% more than they achieved in 2019.
Why is there so much demand for Dream Doors?
A kitchen facelift is popular with customers for three key reasons:
It saves money – typically half the price of an average kitchen
It saves time – it can be fitted in just a day or two
It saves upheaval – which means much less mess in the home
And with 80% of jobs bought by people in their 60s or older, Dream Doors has a core customer base that is growing, that is less affected by any economic uncertainty and has disposable income to spend.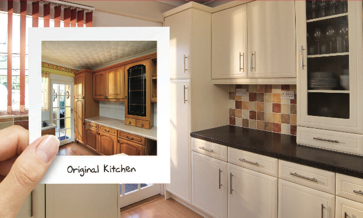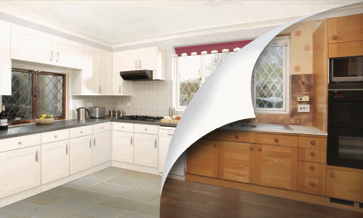 Remember, this is NOT a hands-on business
At Dream Doors, we help you find the perfect kitchen installation team who, typically, will work for you on a sub-contracted basis. That means you can focus on what you do best – meeting customers and running your business.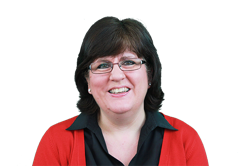 Helen Mahon, who owns the Norfolk franchise with husband, Philip, has just signed up for a third term of their franchise. Says Helen: "I'd never done anything like this before. Running a business, selling and working in the kitchen industry were all very new to me. Yes it was a steep learning curve, but it was also an exciting challenge. And it was definitely the right career move; I'd never felt so excited, enthusiastic or inspired by work before!"
Helen & Philip sell more than £800,000 a year from their Norwich-based showroom.
Training, support and continuing development
Our award winning training* is vital to your success as a Dream Doors franchisee. You'll receive a 13-week induction programme, covering all aspects of running a successful kitchen business, including:
Marketing
Sales
Management
Finance
You'll also have regular – and ongoing – visits from one of our six in-territory support managers, all experienced in kitchens, sales, training and business coaching.
Manbir, of Dream Doors Reading & Wokingham, said: "It was the best training I've ever been on. The Business Development Managers couldn't be more helpful. Everything has gone at the timescale presented to us; it's been such a positive start!"
Find out how an ex-teacher sold £500k in her first year!
Your local showroom matched with big-brand credibility
Working from home to begin with (just while you learn the ropes), you'll be managing your own Dream Doors showroom within six months. And, since our success is directly related to yours, everything we do is geared up to getting you selling and making money as quickly as possible!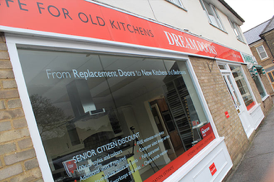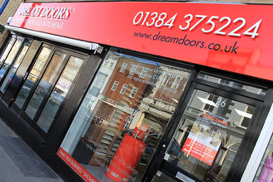 Why the more you sell, the less you pay
Dream Doors only gets paid when you make a sale, through management services fees based on franchisees' turnover. These fees are reduced once annual targets are met, so that the more you sell, the less you pay.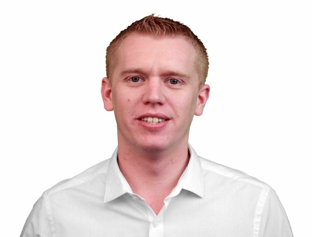 " Since joining Dream Doors I've never looked back. I'm in charge and, at last, I'm able to balance my work and my life! I'd recommend a franchise to anyone else who is in the same position that I was."
Craig Allen - Dream Doors Wealden.
What you need to do next
Are you serious about running your own business?
Do you want to be part of a brand that is the biggest name in its sector, and benefit from award-winning training and support?
Do you want to earn a six-figure income (some franchise owners have achieved that by year two, lots of others by year three)?
If you are motivated, resilient and comfortable in a managerial role – and you have liquid capital of at least £35,000 to kick start your new business – our team would love to hear from you today.
Dream Doors is hosting Discovery Days at its head quarters
in Hampshire this month
Spaces are strictly limited, so book your space today.
You'll find out how people with no experience earn from £75,000 to £150,000 a year. Plus you'll learn some of the secrets behind one of the most decorated franchises in the UK today.
Case Studies
11 August 2017

"We have never felt more at home whilst working!"- Dream Doors Franchisees reap the rewards of self-employment. Like most of their fellow franchisees Mark and Rachael, owners of Dream Doors Chesterfield, weren't experts in kitchen design before joining the kitchen door replacement ...
26 September 2016

Design teacher quits profession to take on kitchen makeover franchise Matt Jones, the new owner of Dream Doors Truro, worked as a design technology teacher for 12 years before taking on a franchise. He'd spent some time searching for a business for sale in the west country, but was ...