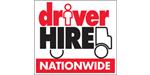 Driver Hire - Management Franchise
Run a successful recruitment business specialising in the transport & logistics sector, serving clients in both private and public sectors.
 Watch Video
Finance requirements

Franchise Fee: £35,000

Available areas

Franchise territories are currently available in a number of UK locations, including start-up franchises and franchise resales i.e. established businesses offering an income stream and cash flow from day one.
Profile

Take control of your life with a Driver Hire franchise
Having been in business for over 30 years and franchising since 1987, Driver Hire is a secure, established franchise brand with a proven business model for generating high returns.
In the financial year 2017/18:
72% achieved sales of over £750,000
50% of Driver Hire franchises achieved sales of over £1million
15% of Driver Hire franchises achieved sales of over £2million
The average franchise turnover (single unit) was £1,180,450
A great achievement when you consider that the franchise industry average turnover is currently only £378,400 according to the 2015 bfa/NatWest survey.

The Driver Hire Business
Driver Hire franchisees essentially run a recruitment business. Finding drivers and logistics staff looking for work and then supplying thousands of satisfied customers each year, from multi-national freight companies to builders merchants, parcel carriers and local authorities, with a flexible workforce. We operate in a huge market - the UK recruitment industry is estimated to be worth £32.2 billion a year.
A secure investment
Five times bfa HSBC 'Franchisor of the Year' award winner
A business with over 30 years of experience
Full British Franchise Association (bfa) member
Many banks classify Driver Hire as a AAA business investment
Head Office support provided by a team of over 80 members of staff
Four to six weeks Foundation Training followed by a 6 month Franchisee Support Programme
Your own postcode defined territory
The opportunity to manage your own recruitment business in the B2B sector
"To be honest, I'd never really considered the franchise option but once I looked at Driver Hire it changed my mind. Driver Hire is very professional, has first-rate business processes and franchisees enjoy great backing to ensure we are successful."
Roy McLellan, Driver Hire Dundee Franchisee since 2009.
"This is a truly excellent company to be involved with. There is a real pride in the brand and I am extremely proud to be part of the Driver Hire Group."
Lee Dean, Driver Hire Warrington Franchisee  since 2015.
Becoming a Driver Hire franchisee is a life-changing decision. In joining us, you'll be joining a long line of successful business owners who are very pleased that they took the same decision.
Click here to view our latest resale opportunities on BusinessesForSale.com where you can own and run an already established Driver Hire office.

Videos
See if Graham Duckworth, Driver Hire's Franchise Sales Director, can answer some of your franchising questions here.