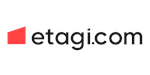 Etagi.com - Real Estate Franchise
Join one of the worlds largest real estate companies. Etagi.com franchises are now available in the UK.
Finance requirements

Minimum Investment: £45,000

Available areas

UK
Profile
Etagi.com franchises
available now in the UK
Etagi.com franchises are now available in the UK. Find out everything you need to know, including the cost to start this franchise in minutes here!
ABOUT THE COMPANY
Etagi.com is the seventh-largest real estate company globally (based on the number of deals) with the leading market share in Russia. he company started in Russia in 2000 and is today represented in 150 cities of seven countries, providing jobs for over 14,500 people.
Etagi.com has an impressive network of partners – we trust and work with more than 70 banks and 1000 developers. Since 2014, Etagi.com consistently occupies 1st place by the volume of issued mortgages in Russia's largest banks: VTB and Sberbank.
We offer a well-established business model, which has been refined over two decades. Our technologies have been tested at branches and adapted for cities with a population of 50,000+. We will train you to a professional standard and provide proven technology for process management.
We are building a strong international company and are looking for partners to do business with us, who are ready to maintain our high standards and continuously improve. Franchise real estate agency Etagi.com is a new type of business, focusing on openness and European quality services. Join our team of professionals!
WHY CHOOSE ETAGI?
Exclusive brand rights in your city, meaning we do not create any competitors for you, only partners in other cities for inter-regional transactions.
An innovative and systematic approach to the real estate business.
We constantly improve the business network by international industry trends, working ahead of customer expectations.
A broad portfolio of partners – over 70 banks and 1000 developers – which guarantees receipt of UTP in the local market.
We consult you, train your staff, provide detailed instructions, and assist you every step of the way: from choosing an office space and customer acquisition strategies to building relationships with local developers and banks.
WHAT DOES ETAGI.COM DO?
Mandatory training in innovative systems integrated into the business for convenience, automation, and fast growth in work efficiency.
All the technologies and instructions you need to develop your real estate business's profitability and a significant position in your region with an outstanding market share.
Preferences for customers from partner banks.
Each franchisee partner receives their own area manager, who works as a business consultant to help fine-tune business processes to build a successful business as quickly as possible.
BENEFITS
Head office support

24/7 support from 13 departments
Personal launching and accompanying manager
Gamification of franchisee work

Marketing tools

Trademark and corporate identity
Digital marketing support
Office design standards
Ready-made advertising campaigns

Training system

Online Training Portal
Testing and certification for employees

IT-technologies

More than 200 IT-specialists of our company create and support the system, which is adapted to the features of the real estate agency
Business intelligence system
Your personal website
CRM-system
Project management system
IT-integration with partners
Mobile applications

HR technologies

HR management system
Assistance in team building
Method of recruitment, adaptation and motivation of employees
FRANCHISEE REQUIREMENTS
A franchisee must have experience in running their own business and be ready to invest to start work.
TESTIMONIAL
The opening of our office was at the peak of the pandemic. We went through a very hard time, but we didn't lose a single employee from our team, we didn't downsize our workforce at all. Actually, it was the other way around and we were able to recruit a lot of strong professionals. Today the office has full legal support for transactions and first-class mortgage service. Plus, we reached the payback point in five months.
– Anton Grezin
FINANCIAL DETAILS
Franchise fee: 3% royalty
Minimum investment: $20,000
Minimum liquid capital: $45,000