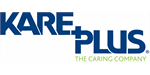 Kare Plus - Care Services Franchise
With a Kare Plus franchise, you will be joining a leading provider of high quality nursing and domiciliary care with a proven track record.
 Watch Video
Profile
With over 75 franchises across the UK, Kare Plus provides a multi-income opportunity, with award winning support and almost 30 years' experience.
Starting life in 1989 supplying nurses to local hospitals, Kare Plus has now grown to deliver a wide range of healthcare services, including nurse and healthcare staff recruitment, as well as a wide range of home care services. As a franchise business grows, more of these services can be bolted on, allowing them to develop new income streams.
An ageing population, nursing shortage and increasing need for post-hospital care services provide a market place with a lot of potential for growth; ideal for those looking to make a profit whilst making a difference.
With large geographical territories, Kare Plus franchise owners help boost their local economy too, offering local employment opportunities, supporting the local community's healthcare market and caring for those in need.

Why choose Kare Plus?
Kare Plus' award-winning support team is always on hand to not only help guide franchise owners to success, but also to continually develop new income streams and services, assist with marketing campaigns and recruitment. We also monitor network-wide compliance to keep franchise owners, customers and staff safe – key to running your own successful healthcare business.

Watch the video below to find out more about the award-winning support our franchise owners receive:
Case Studies
The UK's most established multi-service healthcare franchise, Kare Plus has almost 80 offices across the UK providing nursing, care and support to local communities. With an ageing population, nurse shortage and increasing need for post-hospital care services, franchise opportunities are selling out...
Kare Plus Swansea was the first Kare Plus franchise in Wales, joining the network in September 2015. Husband and wife team, Lisa and Richard Buchanan trusted the Kare Plus brand, ethos, mission and access to NHS framework in the region to support their new venture – even in uncharted waters. Now, ...