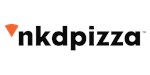 nkd pizza - Quick Service Franchise
nkd pizza are interested in highly driven entrepreneur's who are looking to grow a quick service pizza business.
Finance requirements

Franchise Fee: £14,750 + VAT
Minimum Investment: £50,000

Available areas

Worldwide
Profile
THE NKD TRUTH
NKD Pizza was founded in New Orleans in 2007 in the aftermath of Hurricane Katrina. The brand was initially called "World's Healthiest Pizza." The mission statement was simple "Our mission is delivering great tasting pizza that's good for you."
The trademark "Ancestral Blend of 10 grains" is the fundamental differentiator providing a high fibre and nutritious dough alternative to the heavily processed pizza dough used by many competitors. To offer our customers choices, we have introduced a white pizza which is simply, flour, water, yeast, salt and a little bit of oil.
We don't cut corners when it comes to making our pizza, to prove this we've changed the shape—a rectangular pizza, in a rectangular pizza box.
THE OPPORTUNITY
We have an international pipeline of over 100 stores which will be opening over the next 5 years.
With this pipeline of stores, we are developing and strengthening our growth infrastructure with a robust supply chain, marketing and brand development to give strong brand recognition. This gives our franchisees a recognisable brand to launch in their chosen territory with confidence of having a strong partner and be part of a worldwide brand with locations in Germany, UAE, Bulgaria, Kuwait, Ireland and Qatar.
We are looking to build on this current momentum by partnering with strong franchisees to open NKD Pizza brand in additional territories, from Master franchisees and area developers to single store operators. This is the perfect brand to add to your growing franchise portfolio or start your entrepreneurial journey.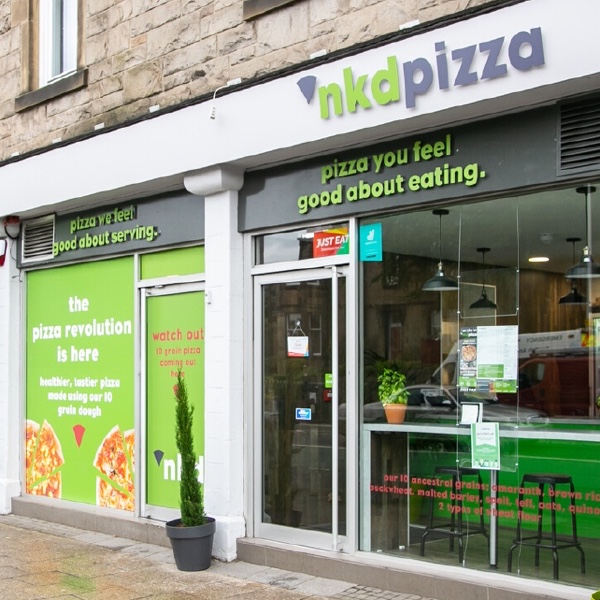 OUR VISION
Be one of the top 5 pizza brands in the UK.
Operationally streamlined, for our franchisees to be profitable and our customers to have a market leading experience keeping repeat order rate high.
Quality focused brand to ensure we are always delivering high quality products to our customers.
Constantly develop new menu items to offer our customers variety.
Partner with multi-unit master franchisees, area developers and single site franchisees to grow a network of strong UK franchisees.
Provide our franchisees with strong support and training to ensure their growth and the NKD Pizza brands growth is maximised.
Support single site operators on their journey to become multi-unit operators.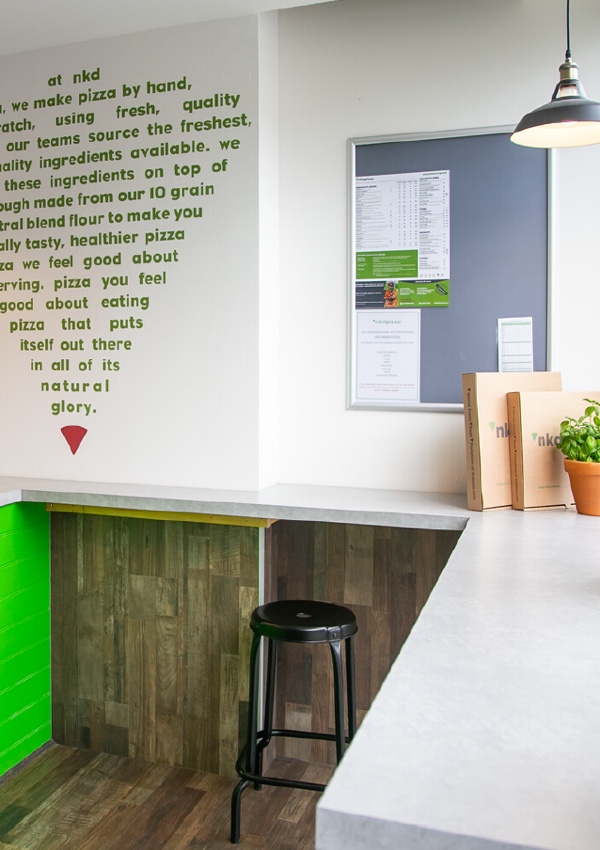 INSIDE OUR STORES
We understand that every one of our franchised stores is different in shape and size. We have done the work with, designers, architects and consultants to make sure when you open your NKD Pizza location it is optimised for delivery and efficiency.
For locations which have sufficient space, we love to build an area for our customers with a bar counter with a small dining area so customers can enjoy a slice of NKD.
The look and feel of our stores are designed to feel welcoming, we chose natural colours and materials that reflect our brand ethos.
We work with leading kitchen suppliers and have negotiated contractual prices on critical pieces of equipment. We continue to work closely with these suppliers to ensure our franchisees are getting the best equipment while minimising the cost of opening one of our stores.
MARKETING SUPPORT
It is a partnership. We want your store to be as successful as it can be, that is why we have developed robust marketing tools and strategies to help each franchisee from launching their store to quarterly large-scale campaigns. The below items are some of the resources that each of our franchisees has access to, these remove the guesswork for you.
Brand Guidelines & Storybook
Social Media Guidelines & Social Media Crisis Guidelines
Full e-commerce ordering platform
Software to track all details of each order from dough to door
Fully set up store-level social media accounts
Menu formats, flyers and additional marketing materials design and ready to print
Store launch marketing guidelines
Regular interaction with our senior management team to provide guidance and support
TRAINING
We have developed a concise twenty-day training plan. This plan gives comprehensive training on all aspects of managing and running a successful NKD Pizza location. Below is an outline of the training plan. All training will be carried out by our training team in your store this means we can train your full team in the location they are going to be working in.
Fifteen days of on-site training in your NKD Pizza Location before the soft launch week, where we will assist you in other staff training, snagging, planning for a soft launch, planning for the launch event (if any) and initial trading.
Five days of working with and mentoring your team during the first week of operations.
Other sessions may take place at the Support Office or a third-party supplier of training.
We have developed a suite of online training videos to ensure we are delivering the NKD training to our franchisees during the Covid 19 crisis. This suite of videos will remain available to provide training to new team members to ensure constant team development.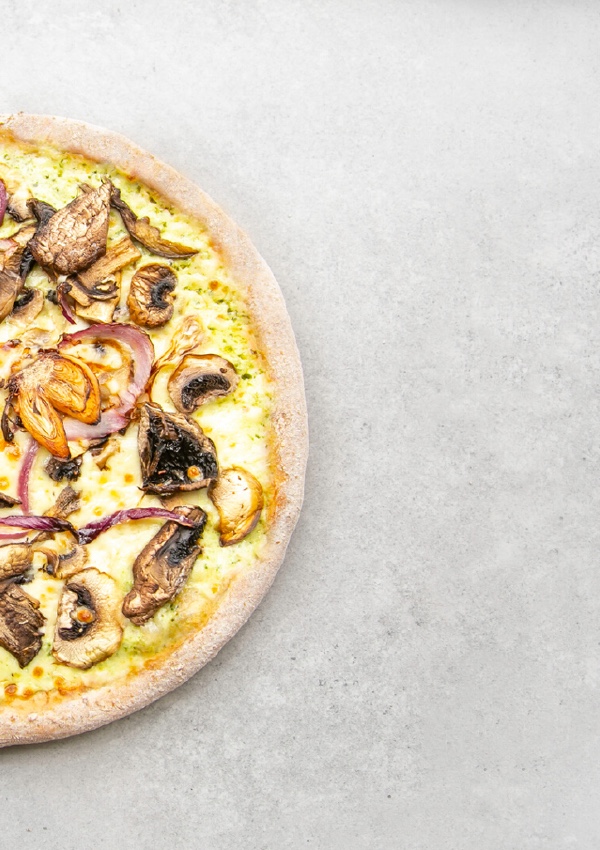 SUPPORT
We offer professional support throughout the process:
Development Assistance
Site selection assistance and guidance
Advice on negotiating the business terms of the lease
Recommended restaurant designs and detailed layouts
Complete equipment lists and specifications
On-site inspections during construction
Introduction to bookkeepers and recommendations on the accounting software we recommend.
Operations manual
Online training and testing for associates
Purchasing programmes
Management tools for food, labour controls
THE DETAILS
The financials and setup costs vary from location to location, once your deposit has been paid our team will work with you on the business planning, below is a snapshot to give you an idea of some of the costs and requirements.
Franchise Fee per unit payable before opening
Royalty Fee
Marketing Fee
Exclusive territory franchise agreement
Commercial property category
Optimum store dimensions
Full cost to setup, including franchise fee and fit-out
We can assist you with the banks to get 50% funding
Our current average store has a turnover of £728,000 with an average EBITDA of 21%. This is based on an average store, your store might not achieve the same numbers.
INTERESTED IN JOINING THE PIZZA REVOLUTION
Now you know more about franchising NKD Pizza, contact us today to schedule a call to request a franchise prospectus.