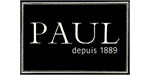 PAUL - French Bakery Franchise
This Global French bakery franchise brings you the opportunity to run your own business.
Finance requirements

Franchise Fee: £25,000
Liquid Capital: £500,000
Minimum Investment: £500,000

Available areas

UK
Profile
PAUL franchises are coming to the UK!
Taste Approved – Good Housekeeping Institute 2020
Finalist British Baker – Baking Industry Awards 2018
Best Sustainability Initiative – QSR Awards 2020
Founded in France, 1889 and franchised in 1985, PAUL is a premium bakery that brings top-quality food to customers across the globe.
With both established and soon-to-open stores in Europe, the Americas, Africa, Asia and the Middle East, PAUL is ready to bring its specialised luxuries to consumers across the UK.
Serving our customers quality, freshly made French food using traditional methods is what PAUL has always been about.
Our secret is to combine our 130+ years of baking experience with the best ingredients to make our family recipes – tweaked here and there for today's tastebuds – and so offer something different and special for each customer that comes through our doors.
We have devised a menu with something for everyone:
Fresh sandwiches & baguettes
Soups, salads & artisan breads
Viennoiserie
Cakes
Sweet treats
Hot and cold drinks
If you are looking to invest and operate a franchise store in the food & beverage industry, then this is the opportunity for you, so get in touch.
Why Choose PAUL?
PAUL is looking to go big in the UK, aiming for 300+ outlets, including venues to compliment already existing stores in London.
Our tried and tested operation offers all franchisees a national supply chain, as well as economies of scale, the PAUL store model with the flexibility to fit your location and a top-class customer experience through in-store bakery preparation.
You will be operating at the highest level of baking and customer service. It will allow you to enjoy all the pleasures and challenges of running your own business without the pressures that come from being on your own. With PAUL, you have our global franchise network behind you. That means all our experience, training, support and passion goes into making sure you succeed.
Your success goes hand in hand with our success.
What Does PAUL Do?
'Integrity, Quality & Service.'
We bring high luxury goods to high footfall areas. It's a simple recipe that's worked since we started franchising in 1985. The PAUL network is built around independent, bespoke bakeries; micro-businesses that serve small communities.
Our tried and tested operation offers franchisees three store models with the flexibility to fit any location:
Café – A warm, relaxing place for customers to meet friends & family to enjoy breakfast, lunch, coffee or an afternoon snack. They are usually based in towns and shopping centres.
Express – First launched in 2018, these venues bring our products to customers in a speedier style! This is designed more towards high footfall areas in travel hubs, for instance. We provide sustenance for those on the move with coffee and grab-&-go products.
Kiosk – An ancillary unit to a Café. They are supported by the Café but offer the opportunity for higher revenue by catching more of the grab-&-go market.
When you speak to us, we will talk you through all the necessary options and areas of consideration so you can make the right choice for you in setting up your PAUL business.
Franchise Benefits
Full training & support
Food Safety and Health & Safety courses
Operation manuals
Advice on site design and project management
All Paul app software
Indicative annual turnover: £850k - £2m
Extensive marketing and media coverage
We are environmentally oriented in energy consumption, regular maintenance of equipment and a commitment to reducing our carbon emissions. It doesn't happen overnight, but we are doing everything we can to do our bit for the planet
Franchisee Requirements
Someone who cares about and loves to be involved with the PAUL brand and products
An entrepreneurial spirit
A can-do attitude combined with a willingness to roll up their sleeves and get involved
A natural, highly motivated leader who has experience in putting together teams and managing people
5-10 years of solid operating experience in the food & beverage industry, preferably in food franchising and with multi-site management expertise
Someone who has previous experience running a successful business and some knowledge of the area they wish to open their PAUL store
Financial Requirements
Franchise Fee: £25,000
Royalty Fee: 5%
Marketing Fee: 2.5%
Fit-Out Cost: £300,000 – £350,000
Minimum Liquid Capital: £500,000