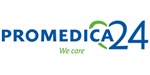 Promedica24 - Home Care Franchise
The only franchise in the care sector that introduces a live-in care service to clients, without the need to manage a care team
Finance requirements

Franchise Fee: £20,000
Liquid Capital: £20,000 – £25,000
Profile
Promedica24: The franchise opportunity
Partner with Europe's largest live-in care provider
A Promedica24 Franchise Partner works to become a key point of contact within their exclusive territory, acting as an advisor and broker of live-in care services delivered by Promedica24 UK Ltd. This allows a complete focus on business development without the distraction and responsibility of recruitment, training and ongoing management of a care team.
About the Promedica24 Group
Promedica24 is Europe's market leader in the provision of live-in care services for people. Noticing a gap in the UK market for reliable live-in care, the organisation is now offering families and professionals a viable, affordable alternative to care homes or daily and overnight care visits. Promedica24 was established based on our significant franchise development in Germany as the best way to promote Promedica24's premium services in the UK.
Promedica24 began with 33 franchise partners in Germany in 2013 and now that number has increased to over 100 partners word wide. Similar levels of growth are expected within our UK franchise network.
Key aspects of the Promedica24 system
Low investment level: Of just £20,000
Home-based: No office rents to worry about and working locally
Tried and tested methods: Promedica24 was originally established over 10 years ago and is now the largest provider of live-in home care services in Europe
A dedicated franchise support manager: An expert in the field with you every step of the way
Recruitment and training of all care staff: Saving you time and money
Minimal working capital required: Start with as little as £5,000
No staff costs, regulatory fees or insurance premiums
Current network turnover in the UK is £4m
Average contract value for UK clients is £750 per week
Admin support: We invoice and pay staff giving you time to focus on expanding your business
Care Quality Commission (CQC) and provisional British Franchise Association (bfa) registration
Multi-channel marketing support: Marketing collateral, business cards, social media support, local advertising etc.
Plus making a real difference to people's lives: Allowing them to stay independent in their own home.
Our franchise partners receive personal guidance and advice from our Regional Managers
Promedica24 franchise model
For a franchise fee of £20,000, along with a monthly marketing fee of £200 and a management service fee of 8% of annual turnover, we provide a long and comprehensive list of services, supports and benefits to our franchise partners.
As a franchise partner your role is to promote Promedica24's care services within your own exclusive designated territory.
WE find, train and employ the highest quality carers for you
WE employ care managers
WE manage all regulatory and compliance matters
WE invoice the client and pay the carers
We provide you with extensive training
We provide you with all the marketing materials you need to grow your business
YOU focus on building a profitable business
Benefits of becoming a franchise partner
A clearly defined sales territory to operate your franchise within.
A tried and tested business model.
The prestige, leadership and organisation of the large and strong Promedica24 brand, along with the burgeoning power of the Promedica24 brand in the UK and Germany.
Full access to Promedica24's service delivery network to support your business.
Comprehensive training and exchange of knowledge.
Equipment and marketing materials provided.
Guidance from your own Regional Manager.
Constant development and improvement of the business concept.
Join the Promedica24 franchise expansion
Our franchise partners come from all walks of life but perhaps surprisingly, you don't need to have a background in care to invest with is. What you do need is the drive and motivation to own your own business and a passion for care.
Here is some of the qualities we look for:
Passionate about changing the way the UK delivers care
Good communicator
Great people skills
Sales experience an added bonus but not necessary
Ambitious and hardworking
Sound like you? If so, then we want to hear from you!
Case Studies
"I always loved the idea of owning my own business. To see the fruits of my labour and have real control over what I do day-to-day but I didn't want to go back to the corporate grind. Now I have the best of both worlds; my hard work benefits me and I'm doing something worthwhile to help those truly ...