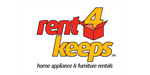 RENT4KEEPS - Master Franchise
Exclusive licence to operate the Rent4keeps (R4K) home appliance and furniture system in the UK, including the Salesforce, R4K CRM.
Profile
RENT4KEEPS UK MASTER FRANCHISE

Home Appliance & Furniture Rentals Franchise
Rent4keeps (R4K) has over 100 successful franchisees operating across Australia and New Zealand and is looking for a suitable person or group to expand its unique franchise system across the UK as the Master Franchisee.
In its seven years of operation in Australia, R4K has become a leading player in the Australian rentals and furniture industry, boasting a proven and profitable business model that provides an exciting opportunity in a market segment that enjoys high customer demand, excellent margins and low overheads.

Following responsible lending guidelines, R4K rents computers, mobile devices, TVs, white goods, furniture and many other household or personal goods primarily to people on welfare benefits or with impaired credit history.
R4K only rents goods to people who have a genuine need of the product being rented and can comfortably meet their rental payments.
Most large retailers offer an in-house rental option as an alternative to buying outright, but many prospective customers fail the usually stringent credit criteria and have nowhere to go for the goods they can afford and need.
As a Master Franchise, you'll receive:
An exclusive license to operate as Rent4keeps (R4K) in the UK, including England, Scotland, Wales and Northern Ireland using the successful and profitable R4K system.
Access to a customised and operational, UK compliant version of the unique and world leading R4K Salesforce based CRM, developed in Australia at a cost of over $3,000,000 (£1,500,000).
A revised and UK compliant version of the R4K website.
Financial Conduct Authority approval to operate the R4K business model (already obtained).
Use of the R4K logo and trademarks (already registered).
The license to grant franchised R4K territories.
The ability to establish Company owned territories, managed by your staff.
Collect revenue / profits from Company owned territories.
Collect fees / revenue from individual franchisees.
rent4keeps….
"making a positive difference to people's lives"