Support Solutions Franchise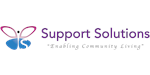 Support Solutions - Home Care Franchise
A Support Solutions franchise is the place to start if you want to enter this new decade taking control of your future.
Finance requirements

Franchise Fee: £25,000
Minimum Investment: £25,000

Available areas

UK
Profile
Take Control Of Your Career In 2021 With A Support Solutions Franchise
Support Solutions is simple in what it offers: delivering homecare in the community for both adults and children. As we enter 2021 and spread our franchise across the UK, this is the perfect time for you to become one of our franchisees and take control of your career!
We ask the right questions to ensure the correct personalised package of care and support is offered to clients and their family. We drive assisted technology to enhance the support provided by a carer which will keep loved ones safe and secure.
Support Solutions have a unique business model and a particular set of services, making this a fantastic opportunity for anyone looking to be their own boss, but never find themselves unsupported, by becoming one of our franchisees.
At Support Solutions, we have designed our business model around customer satisfaction. We do this by focusing on quality and exceptional, bespoke customer service. There are as many approaches to our clients as there are clients!
The key features of our business model are as follows:
Low start-up costs
Operate from your chosen location
Ongoing training and support
High profit potential
Quick growth potential
A Support Solutions franchise is the place to start if you want to enter this new decade taking control of your future. Nothing beats satisfying, rewarding work and huge profit potential!
Why Choose Support Solutions
There are all kinds of different jobs out there, but not all of them come with both profitability and, in many ways more importantly, true satisfaction. The difference Support Solutions franchisees bring to their clients is one of the most incredible things you will ever find in a job!
This kind of work brings its own rewards, especially if you're the sort of person we're looking for: capable of setting yourself up in business, ideally with general business and care experience.
It is important that you see the value in this brand, which comes with all the training, support and systems that anyone investing in a franchise could need. You may, from a previous career, have developed the transferable skills to enable you to successfully launch a delivery arm to your business.
With enthusiasm, hard work and the right attitude, this is a franchise that can change your life in so many ways.
What Does Support Solutions Do
We contract all our staff, from 16 hours to full time – we do not believe in token contracts and see the industry as a career.
We pay for every minute our staff travel between calls. We also have two week rolling rotas that ensure the team get the correct rest periods. If you're not at your best, then how can we expect our clients to be at their best!
We offer bespoke client-to-staff matches for more complex cases, making sure that the very best quality service is provided every time. Our staff are trained in areas that other companies don't bother with, making us a flexible and knowledgeable team. Support Solutions aims to always be the best of the best.
Support Solutions ensure that the time allocated to our clients is their time. We always provide minimum staffing to each client so they can build up relationships to ensure continuity can be met and trust can be built.
We work with the Local authority, NHS, Direct payment and private clients to deliver a huge range of care services. Every Franchisee has the choice to drive their business with their preferred client base.
The fact that we have a low turnover of staffing demonstrates how much our team gets from the work and also shows how we treat staff with respect, valuing each and every one of them.
Franchise Benefits
A recognisable brand with a proven business model. This comes with a licence to use the Support Solutions brand and systems.
A knowledgeable support team and the various materials - operations manual, marketing materials, etc. - required to complete your work. You will also receive ongoing training and support.
You get to operate from your chosen location with full access to operating systems, a website and the CRM system.
You'll have control over your earning potential, making this a far less riskier venture than many similar businesses. It comes with low start-up costs, and high growth & profit potential.
A full starter package, including stationary and work wear.
Franchisee Requirements
You should be able to demonstrate high levels of:
Self motivation
Business skills
Determination
Excellent organisational skills
Excellent communication skills
People skills
Business experience
Health & social care interest
A dedication to satisfying clients' requirements
"Support Solutions looked after my dad before he was taken really poorly; Catherine is fantastic easy to talk to and very caring. All the staff are fantastic and go the extra mile. The night my dad was taken ill the support from the carer that evening (Rachel) was amazing. She not only supported my dad but my mum too. We hope to be returning to Support Solutions when my dad returns home. I would highly recommend the company to anybody needing care or support and if I do decide to go back in to care work I wouldn't hesitate in coming to this company."
- Sabrina Douthwaite
Investment
Franchise Fee: £25,000
Minimum Investment: £25,000