Transol Sameday Franchise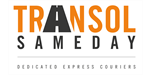 Transol Sameday - Sales & Management Franchise
Transol Sameday – a sales and management franchise in the same day courier industry.
Finance requirements

Franchise Fee: Opportunities start from £35,706 + VAT

Available areas

Exclusive areas available across the UK
Profile
The same day courier industry is thriving and has proved recession and pandemic resistant.  This is your opportunity to join one of the UK's leading independent courier companies
Transol Sameday is a franchised business offering a 24-hour, 365-day independent, reliable, and cost effective same-day expedited freight service to businesses throughout the UK and Europe.
We have been trading successfully since 2012 and have grown into one of the UK's leading independent logistics specialists.
This means whilst your franchise might be new, it comes with the credibility of an established and reputable brand - helping you to generate new business and secure profitable business quickly.
As one of the UK's leading independent courier companies, Transol Sameday provides professional, dedicated courier services for a wide range of industries. An established company, we operate from a Head Office in Coventry, local offices around the UK as well as a depot in Poland to expand our capabilities in Europe.
Whether customers need to send a letter, pallet or a full load, Transol Sameday can deliver. Our vast network of vehicles are positioned to ensure a rapid collection time, and an efficient delivery. Handling freight with care and consideration, we are industry experts who offer a transparent service. Fully insured and utilising the latest in technology and software, when customers choose to express deliver items with Transol Sameday, their goods are in safe hands.
Why Choose Transol Sameday?
THE OPPORTUNITY
In 2018 the UK courier and express delivery industry reached £12.6 billion and is forecasted to grow, rising by a staggering 54% between 2019 and 2023. For those looking to invest in a growing industry this is a franchise worth considering.
ARE YOU LOOKING FOR...
The chance to be your own boss
A B2B service that companies need and will pay for
A global company behind you
Cutting edge software
A business with huge earning potential
An exclusive protected territory
Fantastic training to get you started
Accounts support and invoice processing
A proven franchise opportunity that works
Low overheads
A dedicated team to advise/mentor you
WHAT A FRANCHISEE DOES
When you become a franchise owner, your aim will be to find new business customers to use the Transol Sameday, dedicated courier service. You will build relationships with them and generate repeat business. You will managae and grow your team, servicing your business using our bespoke softwarre systems and network of over 3,500 vehicles.
THIS IS A SALES & MANAGEMENT FRANCHISE OPPORTUNITY.
FRANCHISE BENEFITS
An exclusive territory of your own.
5-week launch plan, including mailshot, telesales, canvassing on patch, sales training.
A full suite of operational training.
Ongoing development support from an assigned Franchise Development Manager.
Full initial start-up support, including computer suites – hard and software – and Two System Licences for Transol Sameday operating system, company registration, accountancy & phone systems, CRM system licence, debt insurance, uniform, stationery, operations manual, etc.
Marketing support with your Transol Sameday website, 12-month marketing plan, flyer campaign, SEO and seasonal tailored marketing.
Head Office support.
Debt factoring.
Credit control, invoicing, and driver payments are all sorted for you via Head Office.
TESTIMONIAL
"I have always wanted to run my own business, my biggest problem was, I had no idea on the type of business or industry to pursue. Over the years I looked at many different franchise options, but nothing clearly stood out as something I could see myself being a part of.
I already knew a little about the background and growth of  Transol  Logistics, so once I heard they were launching franchises I decided to get in touch to find out more.
As part of my due diligence I was introduced to members of the management team and saw the operation working first-hand. The simple, no nonsense, model and the knowledge of the support team filled me with confidence as I had no experience in the transport industry.
I have had ongoing support and guidance from the Support Centre and been given the tools to operate successfully in this fast-moving sector.
I am running my own business with the benefit of an experienced team at my side."
Colin – Franchisee for Leicester
Financial Information
HOW MUCH CAN I EARN WITH TRANSOL?
Financial Illustrations*

*The figures above are purely illustrations of what could be possible. The figures have been taken from those already achieved and are therefore forecasts of potential performance. They assume that one member of sales staff is employed from day 1 and staffing then increases in line with revenue. These figures are no way intended as a guarantee of potential income, costs, or profits achievable and are a range of yearly trading examples derived from varying levels of turnover. The Return On Investment illustrated is theoretical and is dependent on a number of factors such as your location, costs, your own ability, and capability of following our operations manual. You must not rely solely upon these as accurate projections of earnings, costs or profits, but must seek independent advice whilst reaching a decision regarding the viability of this franchise opportunity.
FUNDING
If you need help with funding, the Transol team can put you in touch with the right people at 'franchise friendly' banks. We will also guide you through business planning to ensure there is a profitable opportunity for you in your chosen location.