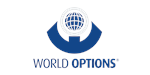 World Options - Courier Service Franchise
World Options franchise business offers a highly lucrative, first class, online parcel delivery service for businesses customers.
 Watch Video
Finance requirements

Franchise Fee: £35,000 + VAT
Minimum Investment: £35,000

Available areas

Franchises are available throughout the UK.
Profile

World Options franchises are the global opportunity for you to get into the shipping sector.
No matter your location, this is a franchise that comes with everything you need to find business success today.
ARE YOU LOOKING FOR:
World Options provides a one-stop shipping solution for businesses to save money on domestic & international shipments.
Using our industry-leading shipping portal, companies can choose which carrier to use based on price, speed of transit or availability with the world's leading carriers, such as:
UPS
DHL
TNT
FedEx
Hermes
DX courier services
DPD
Citysprint
Kuehne & Nagel
DSV
CCW
Liam Connolly
British American Shipping
NF Global
Seabourne
Agility
Cardinal.
We also provide real-time tracking of deliveries, POD's (proof of delivery), invoice payment management, and a bespoke ticketing system.
World Options really is as simple as that. It's what has made us so successful to the point where we are now franchising.

WHY CHOOSE WORLD OPTIONS?
Our franchises are non-geographic, meaning you're not limited to a particular area; your World Options franchise can be set up anywhere in the UK.
Thanks to the power of bulk buying, we offer exclusive rates from leading carriers that businesses wouldn't be able to generate themselves. You will be offering a service that helps all kinds of companies around the globe.
With more people than ever operating their businesses or simply acting as customers worldwide, shipping is more vital than ever. This means you can rest assured you'll be running a franchise that will only grow, no matter the economic situation at any given moment.
You'll have so much of the risk and challenges you would typically face going it alone removed from the equation by being part of our brand. We offer you all the training and support you could ever need.
Ours is a franchise model that has been proven to work over many years.

WHAT DOES WORLD OPTIONS DO?
We create sustainable franchises that come with all the training and support needed to be successful. The training we offer you includes:
Extensive in-person training
The ongoing support of a dedicated sales and development mentor, along with our customer service team
Regular training events and connections with other World Options franchise owners
Access to our remote training and support platform, providing a wealth of resources that can be referred back to at any time
Ongoing business support and access to a broad range of marketing materials designed to help franchisees succeed.
We are renowned for franchisees being able to earn a real, residual income. We've been doing this since 2012, and, as a result, we have franchisees in our '£500k annual margin' club.
BENEFITS
One-stop shipping solution (quotes, tracking, printing labels, stock management, integration with the leading web platforms, such as Shopify, Wordpress, Magento, eBay).
Exclusive carrier rates that could only otherwise be accessed through large shipping volumes.
Ongoing and extensive training, mentoring and support which includes a dedicated sales and development mentor. There are regular training events with endless opportunities to connect with other World Options franchise owners. You have access to remote training and our support platform with training videos.
First-grade customer service, with support and fast response times through our bespoke ticket system.
The tools and promotional materials required to run your franchise successfully.

FRANCHISEE REQUIREMENTS
£35,000 plus VAT.
Entrepreneurs with drive, focus and a hard work ethic.
Enough capital for yourself for the first six months.
A laptop & phone.
TESTIMONIAL
"Working for yourself gives you the opportunity to strike the right work / life balance against financial needs. Being outside the corporate world is a breath of fresh air and great for your sanity" Paul Cannon
"I just love it. There's [sic] other little perks such as tax advantages that I'd never even thought of, that allow me to deduct some of my operating expenses as business expenses." Matthew Mansfield
"I get to spend more quality time with my family, as I no longer have to commute, I can manage my own working hours and plan my own working day." Andy Telford
"I am far more in control of my own income, as I can manage my time around seasonal peaks and I can schedule downtime when it's convenient for me" Warwick Snelgrove
FINANCIAL INFORMATION
Franchise Fee: £35,000
Minimum Investment: £1,000