A lack of finance is the biggest obstacle to buying a franchise, franchise seekers have told FranchiseSales.com.
Asked to pick the one or two greatest hurdles they've encountered in their bid to become a franchisee, 41% of the thousands polled in a survey cited funding difficulties. Not far behind, 37% said a failure to find a concept that interested them was a major factor.
Thirty percent confessed to being unsure if they were even suited to franchising, while 6% had already been rejected at the application stage by a franchisor.
If aspiring franchisees have always approached banks with trepidation, raising finance to buy a franchise has become even more daunting since the banks tightened lending criteria in the wake of the 2007 subprime crisis. 
However, despite media gloom about risk-averse banks and a paucity of credit, many long-established franchises have built close relationships with banks, who happily lend money to franchisees approved by the franchisor. So sometimes it's not so much a case of impressing the banks as impressing the franchisor.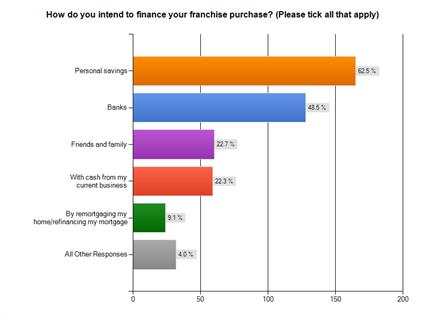 ​​
The 18% and 9% of would-be franchisees who professed an interest in home- and internet-based franchises respectively may well have had financial considerations in mind. Negating requirements for premises or sales staff, work-from-home and web-based franchises can require a personal investment of less than £5,000.
Average cost
The average cost for opening a franchise is much higher at £46,700, according to a 2010 survey by the British Franchise Association and Natwest. A bank will typically put up two-thirds of the cost, with franchisees paying the rest themselves.
Asked how they intended to finance their acquisition, nearly two thirds (63%) were expecting to draw on personal savings. 
With the average franchisee aged 44, according to the survey, many will have accrued sufficient collateral through savings or equity.
Perhaps surprisingly, more than half (51%) were not expecting to raise any finance from a bank.
Twenty-two percent of respondents were planning to use cash from an existing business (a third of franchisees already own businesses), while a similar proportion – 23% – were going to borrow cash from family and friends.
Ten percent were planning to remortgage their home, while 5% had a redundancy payoff to draw on.
Financial and other obstacles might explain why prospective franchisees are taking so long buying a franchise – 36% percent have been researching the market for more than a year.
Then again, it's also likely that people are – understandably and certainly wisely – unwilling to rush into a decision with such major ramifications for their future.
A further 32% have been looking at franchise opportunities for between six and 12 months.