Have you met Franchise Sam? He wants to run his own business, but never quite gets it right. Take a look at the cartoons below to see his attempts and getting into business.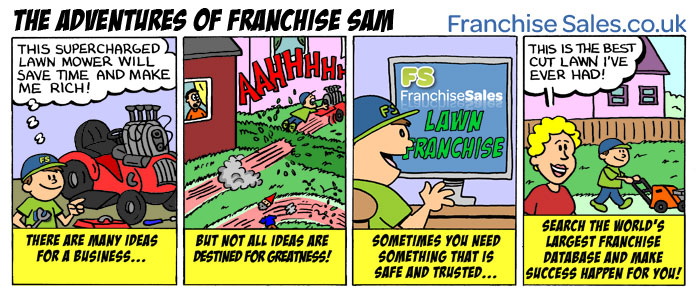 Franchise Sam fancies himself something of an engineer in the latest instalment of his cartoon (mis)adventures.

Predictably, his fantabulous contraption, a supercharged lawnmower, is a little bit more supercharged than he and his customers are prepared for! Eventually Sam admits defeat and once again resorts to the safer and more lucrative world of franchising.

FranchiseSales.co.uk has several lawn acre and gardening franchises featured. Browse them here. As a lawn franchisee you will have your own territory and marketing support – and of course high-calibre lawnmowers that are easy to control!
---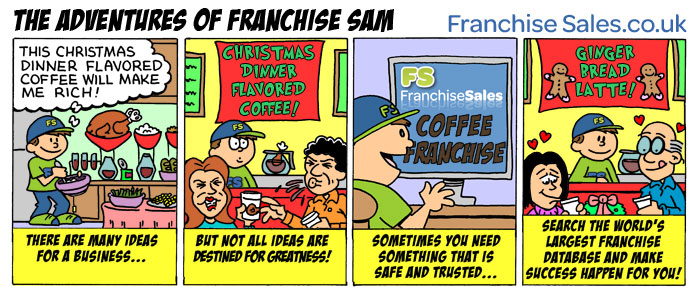 Here is Franchise Sam trying to harness the spirit of the festive season. Launching his own coffee franchise concept, Sam initially finds himself in trouble as he tries to find that perfect blend... Christmas dinner-flavoured coffee? Looks like he's failed again!

But it all comes good in the end as Sam yet again proves that anyone can run their own franchise if they have a strong work ethic and bags of enthusiasm.

Merry Christmas and Happy Holidays from Franchise Sam and all of us at Franchisesales.co.uk.

Think you can do better than Sam? Browse coffee franchise opportunities on FranchiseSales.co.uk now >>
---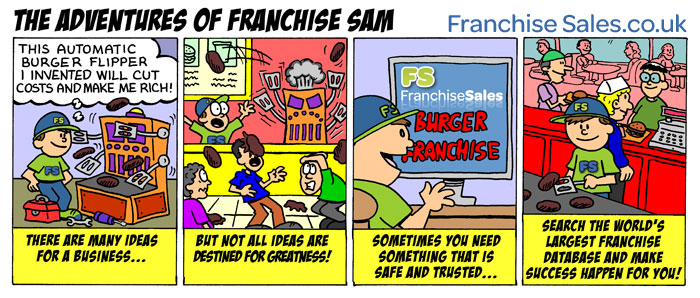 Franchise Sam's first foray into business sees him on the way to inventing a burger flipping machine.
Perhaps he should have considered a fast food franchise opportunity in the first place!
---
If you fancy hosting the adventures of Franchise Sam, you can do so by using the code below or if you have any questions or suggestions, please get in touch.


http://www.franchisesales.co.uk/resources/articles/the-misadventures-of-franchise-sam " targe t="_blank"> img src=" http://www.dynamis.co.uk/imglib/FranchiseSam_1_new2.jpg" alt="Adventures of Franchise Sam by FranchiseSale.co.uk " />

We created Franchise Sam's illustrated adventures as a funny, cool and quirky approach to advertising the merits of buying a franchise. Anyone, even those without extensive knowledge or experience of running businesses, can run their own franchise, so long as they possess a strong work ethic and enthusiasm – a quality not in short supply where FranchiseSales.co.uk's mascot is concerned.
We want to promote the benefits of franchising to the world at large, especially those who feel that buying a franchise is just out of their reach. We reckon Franchise Sam's cartoon will help us reach a whole new audience.
So who exactly are we? We're Dynamis, experts in helping aspiring entrepreneurs find the right business opportunity. Franchise Sam is the face of FranchiseSales.co.uk, which forms part of our portfolio, together with BusinessesForSale.com and PropertySales.com. We're not trying to sell you anything, we just thought a free cartoon would be a fun way to promote what we do best, helping people to find the business of their dreams and become an entrepreneur.