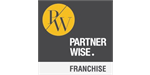 PartnerWise Franchise - Franchise Support
A franchise support business that represents customers from new entrants to globally recognised brands.
Profile
PartnerWise Franchise is a UK and European Franchise Support Business whose customers range from some of the world's largest franchised brands, companies moving in to the channel and dynamic start-ups.
Using our specialist franchise expertise and a vast network of contacts we have gained a reputation for adding value and supporting the strategic growth objectives of a variety of organisations.
'Your Growth is Our Passion' is at the heart of everything we do. It's a truly lived value that has been recognised through the kind words of recognition by long term customers such as Pizza Hut, KFC and more recently EE.
'Appointed by Oltco Ltd to transform them from a company owned, single territory (Cornwall) business to within 18 months a fully built and operational franchise model with 19 trading areas in the UK and already discussing international expansion'.
We support our customers through providing a comprehensive array of franchising support services. These range from the various aspects of franchise operations and set-up including investor and financing introductions, strategy and new partner sourcing and every step of franchise roll-out across a country or region. Over the last 7 years, we are proud to say we have sourced, assessed and approved over 323 franchisees into multiple brands across multiple countries.
PartnerWise Franchise primarily differs in terms of how we support you. We provide in house support services with flexibility of approach, bespoke solutions and a close collaborative style that enables us to achieve the result we are both looking for.
We look to dovetail with your business, your people, your culture and all the potential franchisees who we aim to attract. Over time we often grow to act as extensions of your business, respected brand ambassadors who deliver results and an all-round outstanding customer experience.