Platinum Wave Franchising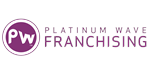 Platinum Wave Franchising - Franchise Consultancy
Platinum Wave Franchising is a full-service agency that has helped hundreds of brands at every stage of the franchise journey.
Profile
Platinum Wave Franchising was founded in 2010 by Suzie McCafferty after a nearly a decade spent building her own ink cartridge business into an international franchise with more than 70 franchisees in six countries, and then as MD and Board Member of national recruitment agency franchise Select Appointments. Platinum Wave's early mission was to bring the benefit of Suzie's experience to businesses looking for authentic franchise consultancy to help them grow.
Today, Platinum Wave has grown into a full-service agency that has helped hundreds of brands at every stage of the franchise journey. The company works on projects with some of the biggest names in franchising around the world, but also some of the most exciting new entrants looking to disrupt their market sectors with perfectly positioned franchise models.
An experienced team of nine, Platinum Wave and Sister company Franchise Moves have been providing six core services to the franchise industry for a decade:

If you want to...           
Franchise your business properly
Attract, recruit and retain the best franchisees & staff
Improve network performance
Expand internationally
Bring your brand into the UK
Sell your franchise
... then PW come recommended by the biggest names in the world of franchising.
Long term working relationships with clients are very much the norm at Platinum Wave, where the whole team works together with you to solve problems and deliver growth and success to your brand.
Inhouse copywriters, content creators and digital specialists, work hand in hand with the PW recruitment and head-hunting team, who guide the strongest candidates through a tried and tested process all the way to signing your franchise agreement or joining your team. 
In contrast to the copy and paste, get rich quick approach of some other advisors, PW is passionate about promoting ethical franchising and the importance of building solid foundations for long term success. Highly visible in the industry, the team Chair bfa regional forums, deliver QFP training, speak at franchising seminars all over the country, sit on judging panels and sponsor key industry events such as The Best Franchise Awards, Franchise Fest and Scottish Franchise Week with HSBC. Why is this relevant? Because when it comes to choosing the right support for your business, trust and accountability should never be in doubt.
"Uniquely, when working with Platinum Wave, you don't feel as if you are working with an external agency, but more that they are part of your team - living and breathing your values. With a dedication to providing nothing less than a premium quality service, to say that they go above and beyond would be an understatement - they are the absolute dream team and a pleasure to do business with."
Lucy Campbell | Director – Operations, Right at Home UK