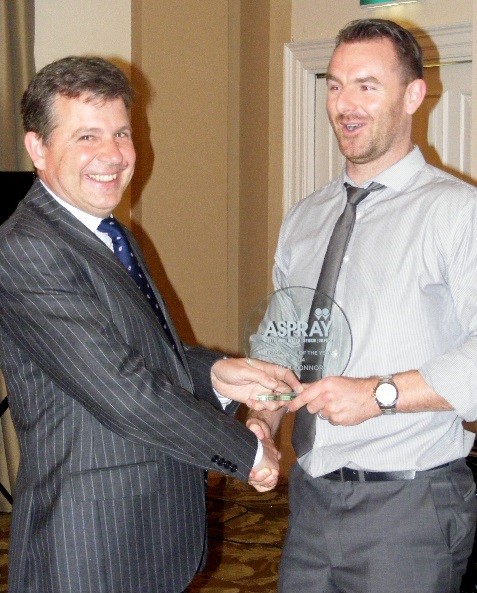 An interview with Aspray's Franchisee of the Year, Jack Connor
Aspray's Jack Connor joined the Aspray team in April 2014. Not only did Jack double his target for first year turnover but has received nothing but positive feedback from Aspray customers and introducers.
Why did joining the Aspray franchise opportunity appeal to you?
Because I worked for Aspray (Guildford) as a contractor and could see potential for a bigger business than I was currently running. It looked like a good lifestyle too!
What was your occupation before joining Aspray?
I was a plasterer and decorator for about 10 years prior to joining Aspray.
If you had any advice for a new franchisee about the beginning of their journey with Aspray what would it be?
Make sure you handle quite a few claims to completion before pushing to expand your business. You need good experience with insurers, Loss Adjusters and Contractors to be able to successfully manage multiple claims at any one time. If you are handling a lot of claims for big introducers before you are confident in doing so you could risk looking unprofessional. Don't run before you can walk!
What's the best thing about finishing a job for a customer?
Receiving good feedback and testimonials, seeing works completed to a high standard and getting paid! Clearing jobs off your list makes room for new ones.
Which area do/did you need most support from Aspray Head Office with and how has the support from HO benefited your business?
The support is first class. Everybody at HO has a vital role to play and they are all great. General advice on complicated claims or situations you have not come across before are most common. If Hayley or Lucy cannot help (which is rare) then Julie Parker is always on hand to guide you through difficult claims.
I want to express my sincere gratitude for not only the exceptional work you have done for me but, more than anything else, the continued support you have given me over the last twelve months.  In terms of the work, you helped remove the stress, hassle and disruption in reinstating my property to its previous condition after a major burst water pipe. On top of this you went that extra mile to support me in court to retrieve my costs as a result of the poor and dangerous workmanship left by the builder.  For this alone, I cannot thank you enough. On a personal level you are a joy to work with, and I can assure you that I would be the first in line to recommend you.  You are a credit to Aspray!

Louise Nicholson
What do you enjoy most about being an Aspray franchisee?
Becoming a professional as opposed to a tradesman. I love wearing a suit to work and also having a business that suits my life. I have a young family and this job gives me the time to be around to watch my kids grow up as well as running a successful business. A good work and family balance is extremely important to me.
How would you describe your overall experience as an Aspray franchisee?
Very good. I love my job and the person I am becoming as a result of a change in career. I don't really have any negatives as yet.
What did winning the Franchisee of the Year award mean to you this year?
It meant a lot. I was really not expecting it at all and although I knew I had a good first year, it's hard to compare it to that of all the other franchisees to know just how well you are doing. I think the mixture of good feedback, no complaints, difficult claims and a good first year turnover which all contributed to the award.