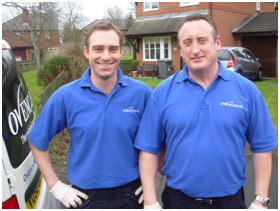 A two man team making a great impact on the nation's kitchens – apart from the Hairy Bikers! - is Ovenclean's dynamic duo, Jeff Deeming and Andy Bloore, who have been working together as successful Ovenclean franchisees for since 2003.
For thousands of happy customers in the North West, Jeff and Andy are certainly the best thing to happen in the domestic oven cleaning marketplace, which is why business is booming for the enterprising pair. "We've had our busiest couple of years ever despite the difficult financial climate," Jeff confirms. "Our thriving business is built on word-of-mouth recommendation and regular repeat business, but we have also benefited massively from the investment in brand building and marketing by the franchisor – just last week we had seventeen new enquiries passed to us by the team at Head Office!"
Currently, Andy and Jeff clean around thirty ovens a week – although that figure can more or less double in the weeks running up to Christmas, yet they finish work at 3.30pm most days enabling them to spend plenty of time with their respective families.
The pair first met in 1997, whilst working for an engineering company, where they became firm friends. Some years later they both felt in need of a change of direction and began to look for a suitable opportunity to set up in business together. Determined to make the right decision, they first agreed on franchising as the best route forward and then identified Ovenclean as the potential front runner. Still cautious, Andy and Jeff tracked Ovenclean over a period of six months or more, before finally arranging to visit the company's Head Office.
"We were really encouraged by the size of the market and impressed with the potential for growth - not to mention the environmentally friendly Ovenclean system, which was superb," recalls Jeff. "Most of all, we were impressed by the experience and commitment of the friendly management team. In fact, we had been due to visit another similar company, but once we'd spoken to Ovenclean, we cancelled. We knew we had found what we were looking for."
Jeff and Andy launched their new Ovenclean business in October 2003 and hit the ground running, distributing 10,000 leaflets across their territory in their first two weeks. "We knew that as this was the run up to Christmas, it was a great chance to get off to a strong start," Andy says. "We had tremendous response and were rushed off our feet. We had a truly exceptional Christmas that year, which laid strong foundations for the future success of our new business."
Since then the two men have tested various marketing tools, from local newspaper advertising to lamp post signs – even trying a sign written trailer; they still continually leaflet surrounding homes wherever they are cleaning ovens and invariably achieve strong response,  but Jeff confirms that their most powerful sales tool by far remains word-of-mouth recommendation from their satisfied customers.
"We have a solid base of customers who use us regularly, but if you're going to grow your business, you have to keep attracting new customers," Jeff explains. "That's why in the last couple of years we've been widening our scope. As well as targeting new domestic customers, we've been securing contracts with local landlords who want us to clean ovens as tenants move in and out, also we work for three large private schools in the area, where the ovens are used regularly by over 2000 students in term time and need cleaning during the holidays."
Jeff continues: "The bigger your customer base, the more recommendations you get, so as time goes on it gets easier to grow your business, but Andy and I are ambitious and we never rest on our laurels – in fact, we offer incentives to customers to recommend us to their friends and family by offering them a discount on their next oven clean."
In the last twelve months, Ovenclean has been focusing strongly on supporting the local activity of franchisees with a renewed emphasis on marketing; building awareness of the brand – and the service - on a national basis. The new-look website, which was launched last summer, has proved a huge success, substantially increasing new customer enquiries to the Ovenclean national call centre, with leads passed to the network over the year to date doubled compared with the same period last year.  Meanwhile, the latest campaign with JamieOliver.com, 'Good cooking starts with a clean oven', has further boosted both the visibility and the authority of the brand, as well as generating a fresh stream of interest from new customers.
"We pride ourselves on the strong training and support programme we provide to new franchisees," Ovenclean Marketing Director Anne Blee explains. "We ensure they have a great launch for their business and continue to benefit from our national marketing activities. Jeff and Andy are outstanding examples of what can be achieved when franchisor and franchisee work together to build a successful business!"
Although Jeff and Andy's business has continued to expand, unlike other Ovenclean franchisees in the same position, they currently have no plans to put more vans on the road. In fact, they maintain that however busy they get, they won't split their two man team.
"We work very efficiently together," Andy says. "One of us works inside the kitchen cleaning the carcass of the oven, while the other works outside on the racks and trays. We take turns. As a result we can process a lot of ovens quickly without compromising on quality."
According to Jeff, the unique Ovenclean system is so effective that they can clean many more ovens – and with less mess too - than they could with a more traditional oven cleaning process. Absolutely free of caustic chemicals and exclusive to franchisees, this market leading system sets Ovenclean apart from competitors.
"Our customers are happy because we leave their ovens and kitchens clean, fresh and fragrant, and we're happy because we're providing an excellent service, which is highly valued and very profitable!"
Jeff and Andy are happy to 'put something back' into the franchise that has served them so well too, supporting new franchisees with their initial training and that all-important launch, thereafter providing ongoing mentoring for their first few months in business.
"Ovenclean has been great for us – we love it!" Jeff concludes. "There's really good money to be made. Our business supports both Andy and I at an income level well above our previous salaries as engineers. We both get great job satisfaction from what we do and we work the hours we want.
Although we're certainly reaping the financial rewards of our decision to invest in an Ovenclean franchise, we both agree that the major benefit we've experienced is a vast improvement in our quality of life. We now each have independence and the flexibility that allows us to spend plenty of time with our families.  We both take the same weeks off work for holidays each year, and we plan our diaries accordingly. Our working day starts reasonably early, but we generally finish at around 3.30pm in time to pick the children up from school. What more could you ask for from a business?"
Ovenclean provides specialist oven cleaning services to a large, virtually untapped marketplace.  Franchisees operate from professionally liveried vans and so benefit from low overheads and high flexibility.  The top quality, powerful, yet eco-friendly Ovenclean product range, exclusive to Franchisees, effectively cleans ovens and hobs, Agas, ranges and barbecues, restoring them to pristine condition within a matter of hours.  The proven business model is easy to learn, simple to manage and delivers a high earning, flexible lifestyle.